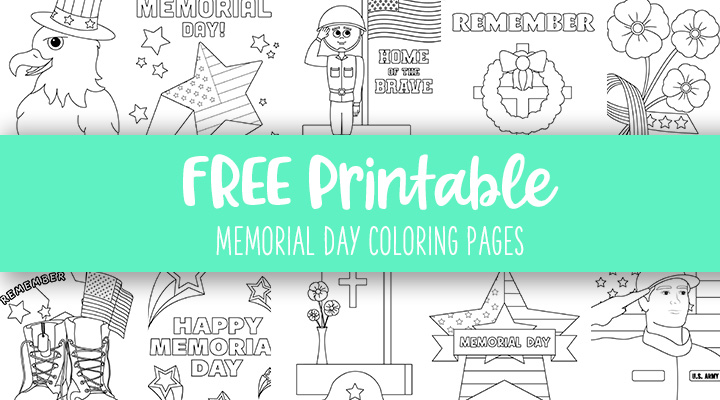 Every year, on the last Monday of May, all across the United States of America we join in celebrating and remembering the many military personnel who have passed away while serving in the US armed forces.
While most Americans today celebrate with fireworks and/or BBQs, parades, or trips to the beach, the core sentiment of this holiday is to honor those who fought bravely to protect our country and who gave us the freedoms to live as we do today.
These Free Printable Memorial Day Coloring Pages are excellent for elementary school students as they learn about Memorial Day to color in class and either take home, decorate their classrooms, or display in the halls of the school. They are also perfect for home use where children can color them as a themed activity leading up to (or on) Memorial Day. We're sure that some of the symbols used in the coloring pages (the US flag and its stars and stripes, the bald eagle, or combat boots, just to name a few) will pique the curiosity of your children or students and will be a wonderful opportunity to teach them about those who serve currently and who have served our country so valiantly.
To get your Free Printable Memorial Day Coloring Pages all you need to do is click on the image of the coloring page(s) you'd like to use, download the PDF files to your computer, and print!
If you'd like some more free printable coloring pages appropriate for Memorial Day, check out these posts below:
Free Printable American Flag Coloring Pages & Templates
Free Printable Firework Coloring Pages