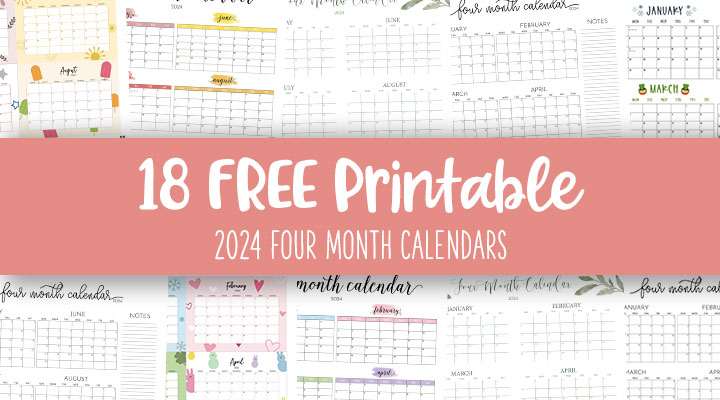 While we do have Free Printable 2024 Three Month Calendars available to print from our site, we know from experience that many people (ourselves included) also like a four month calendar so we can see just a little bit further out than what a typical "quarter" would cover. And if you're in school they are especially helpful since each term/semester is roughly 4 months. So if you are looking to see all your assignments and due dates at a glance then these four month calendars are definitely the way to go! (By the way, if you are in high school or college right now you might also find these Free Printable Cornell Notes Templates helpful!)
Whatever your reason for wanting to use these four month calendars rest assured that the process to get your hands on them is super easy! Just follow these three steps:
Scroll through the calendars below and click on the image of the one(s) you'd like to use,
Download the PDF file(s) to your computer, and
Print!
We can tell that you are (or would like to be) an organized person just by the fact that you're here on this post! We think you'll find some of our other organizational printables incredibly valuable in managing your time and responsibilities!:
Free Printable 2024 Three Month Calendars
Free Printable Note Pages & Templates
Free Printable Weekly To Do Lists
Free Printable Monthly To Do Lists
Free Printable Hourly Planners
Free Printable Weekly Planners
Free Printable Two Week Planners
January – April 2024 Calendars
May – August 2024 Calendars
September – December 2024 Calendars