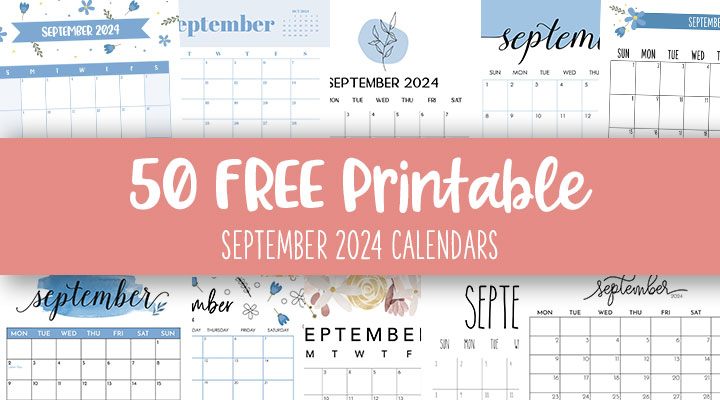 If you and/or your children didn't start the new 2024-2025 school year in August then this is your big month! Back to school is officially in full swing and we couldn't be more excited! Of course, there are lots of new schedules, details, and paperwork to be sorted out at the beginning of a new school year. To get your older students off on the right foot we suggest printing these Free Printable Assignment Trackers to make sure they get into the good habit of keeping track of and handing in every assignment on time as well as keeping great notes from which to study using these Free Printable Cornell Notes Templates. For the elementary school crowd, we love these Free Printable Reading Logs to help them re-establish positive reading habits during the school year.
The beginning of a new school year can always feel a little overwhelming but it helps to write everything down on paper. The Free Printable September 2024 Calendars below are exactly what you need to help you through! All you need to do to get your hands on one (or more if you need them!) is scroll through the many design and layout options available, click on the image of the one(s) you'd like to use, download the PDF file(s) to your computer, and print!
We also have a ton of other free printable back-to-school resources for students, parents, and teachers! (We've listed several links below you may find useful.) You can also check out our ORGANIZATION tab in our menu to find even more ways to be organized this school year!
BACK TO SCHOOL RESOURCES FOR STUDENTS, PARENTS, AND TEACHERS:
Free Printable First Day of School Signs
Free Printable Student Information Sheets
Free Printable All About Me Worksheets
Free Printable Attendance Sheets
Free Printable Addition Charts
Free Printable Subtraction Charts
Free Printable Multiplication Charts
Free Printable Hundreds Charts
Free Printable Letter A Worksheets
Free Printable Alphabet Coloring Pages
Free Printable Days of the Week Worksheets
Free Printable Months of the Year Worksheets
Monday Start Calendars
Large Print Calendars
Calendars With Week Numbers
Spanish Calendars – Calendarios Imprimibles De Septiembre 2024