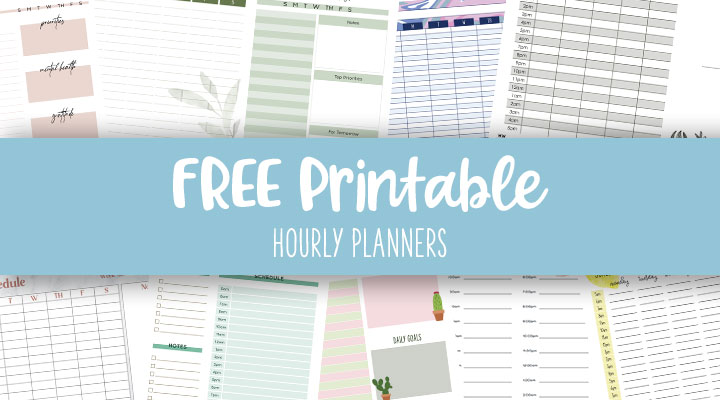 We've really been putting an emphasis on getting our time organized this year–to make sure we optimize it instead of letting it either pass us by or being unnecessarily stressed out. We know we're not the only ones in this boat, so we've created yet another way to help everyone, including ourselves, manage the time we have better.
Do you ever have a list of to-dos (like our free printable weekly to-do lists), but find yourself at the end of the day with only a few items checked off and no time left to do the rest? Yeah, us too. Below you will find 20 unique hourly planners/calendars to help you manage the time you have each day. Know when you have appointments, or when you need to run certain errands, or write in any other commitments you have, and then fit the rest of your list around those things. By assigning each hour a task you are better equipped to get it all done!
The hourly planners below are a mix of daily and weekly, and some of them have other sections for things like the top priority for the day or a menu planner. For more granular planning, the five at the bottom of this post are ones with time slots in half-hour increments instead of hourly.
Find the one that's best for you, click the image to download it to your computer, and print it from home for FREE! It will take less than two minutes which leaves you a lot of time to get to everything else that you need to get done!
Hourly Planners – 1 Hour Increments
Hourly Planners – 1/2 Hour Increments
Due to popular demand, below are five hourly planners that have time slots in half-hour increments.