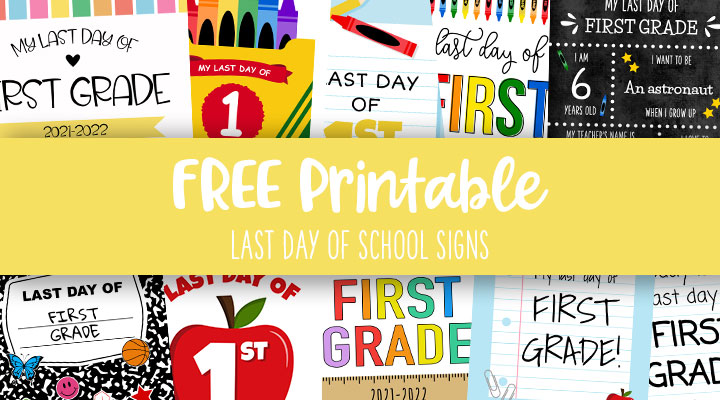 Another school year has come and gone and it certainly flew by! It's hard to believe that just a few short months ago we were posting our free printable First Day of School Signs (we've already updated them for the coming fall 2023 school year!). We recognize that many people love to take a picture of their kids on their first day of school for each grade. It is such a fun tradition! We also know that seeing how much your child has grown from the first day of school to the last is so special and taking these pictures is a wonderful way to document those memories.

If your child's school year is soon coming to an end, be sure to download and print a free printable Last Day of School Sign below to help caption your pic. We have 35 designs to choose from (with a few of them being editable versions so you can type in your own information), and we've kept the designs the same as the First Day of School post so that, if you wish, you can print the same sign to give you great comparison shots of the beginning and end of the school year.

All you need to do is find the same sign you used at the beginning of the school year (or a new one altogether if you'd like!), click on the image to download the PDF file to your computer, and print! Each PDF download of any given design/sign has Pre-K through Eighth grades available. The end of the school year is hectic enough. Printing off a sign to make a fun memory doesn't need to be!
EDITABLE LAST DAY OF SCHOOL SIGNS
To edit the last day of school signs below that are noted as "editable", you'll need to use Adobe Acrobat to edit the documents and ensure you have the correct font on your computer BEFORE downloading the document. You can then type in your own details into the document. All fonts are available here: Google Fonts. Additionally, each editable document has the name of its specific font and link listed below the document.
Alternatively, if you wish to just click and print any of the non-editable versions that works too! Each of the four designs below has a "click to print" version AND all the ones above are likewise "click and print" ones for your child's last day of school!
Use this font: Josefin Sans Light
Use this font: Josefin Sans Light
Use this font: Bebas Neue
Use this font: LifeSavers Extra Bold