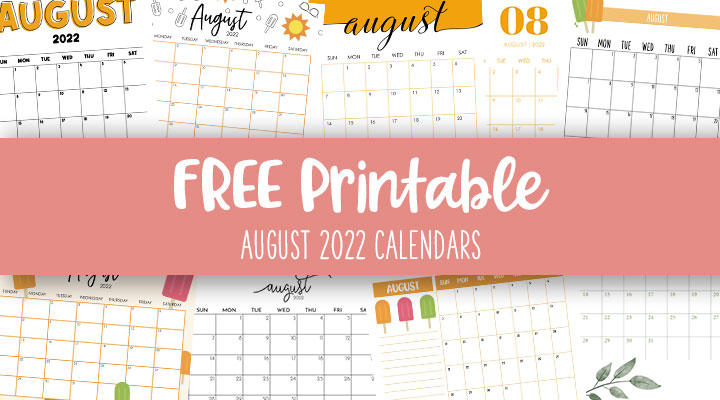 At the beginning of every summer, it seems like we have ahead of us a never-ending vacation with hot summer days, picnics at the park, and afternoons spent at the pool. But with the snap of our fingers, all of a sudden June has passed, July flew by, and we find ourselves looking at August, just as school is about to start in many places across the country! In case you weren't able to take advantage of the summer days in June or July, make sure you take this opportunity to print out one of our free printable August 2022 calendars to plan out and pack in as many summertime things as you can in this fleeting summer month!

In addition to planning your summer happenings, you'll also need to start preparing for school to start! You can print out our August 2022 calendars to jot in all that that entails from back-to-school night to school supply shopping excursions. We even have 300 printable first day of school signs to choose from! What a busy month August ends up being!

Fortunately, printing out a monthly calendar to keep you organized won't take much time at all, or cost you any money – it's free to print and couldn't be simpler! All you need to do is scroll through the August 2022 calendars below, click on the one(s) you'd like to print, download the PDF file(s) to your computer, and print! It really is as easy and straightforward as that!
Looking for August calendars that start on Monday? If so, scroll to the bottom of this post to choose from an additional 8 free printable calendars that have a Monday start!
Printing these in advance and looking for additional calendars? They can be found here:
Monday Start Calendars
Choose from eight different August 2022 calendars that start on Monday!