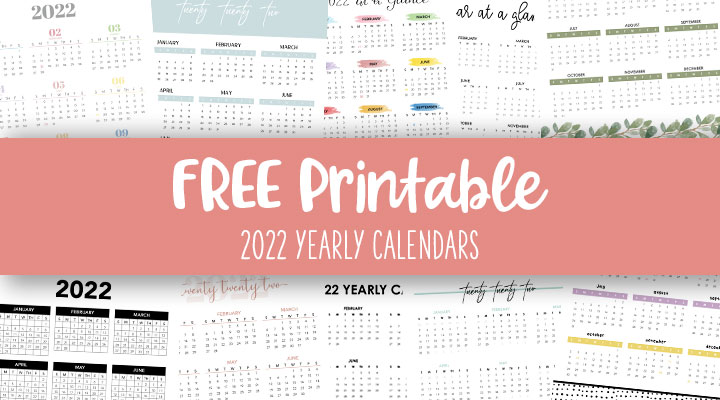 This is the year for us all to become organized with our time! Our time is one thing that – for the most part – we have full control over. We get to choose whether we spend our time working, being productive, relaxing, sleeping, having fun, learning, etc.

We have lots of free printable resources to help you manage your time effectively while still getting in some downtime and making sure that all your responsibilities are being met:
Free Printable Hourly Planners
Free Printable Weekly To-Do Lists
Free Printable Two Week Planners
Free Printable Monthly To-Do Lists
Check out February 2022, March 2022, and April 2022 calendars as well as all of our free printable calendars!!

All of those resources will certainly help you organize your time on a micro-scale and get you into all the finer details. Today we're sharing printables that will help you on a macro level – being able to set aside or assign specific dates well into your future. Going on vacation? Celebrating a special birthday? Have a big assignment or project due? No problem! Indicate your big events on any of the 2022 Yearly Calendars below! Then you'll never run into a problem with over-booking yourself or inadvertently running out of time before something needs to be accomplished.
These one-page calendars are perfect for looking at the year at a glance so feel free to print it at home and use it as a wall calendar on your fridge, above your desk, or anywhere else you'll see it when you need it. Or if you're printing an assortment of our free printables listed above you could arrange them all in a binder or notebook.
These printable 2022 calendars feature a mix of portrait and landscape orientation, with and without federal holidays, and aesthetic and utilitarian layouts.

To print any of these annual 2022 calendars all you need to do is decide which one you like the best, click on the image to download the PDF file, and print! Being the ultimate organizational guru really is as easy as click and print.