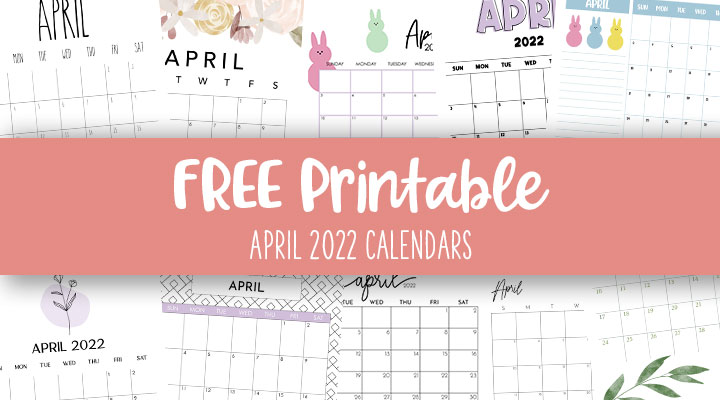 Spring is in the air and we couldn't be happier! Getting out into the fresh air, seeing plants come back to life, and splashing in rain puddles is what springtime is all about! Well, maybe it's not what it's ALL about – there are still errands to be run, to-do lists to be checked off, appointments to go to, and all of the things that come with being an adult. But getting all of them written down and taken care of will hopefully leave a little extra time to enjoy the outdoors.

Below, you will find 25 free printable April 2022 calendars (2022 yearly calendars are here and ALL of our published printable calendars are here) that are perfect for jotting it all in. Use it for meal planning, to-do's, scheduling – the applications are limitless! Whatever you use it for, make sure you print it! You will feel infinitely more organized just by taking that first step. And that first step couldn't be simpler: select the calendar you like best from the options below, click on the image to download the PDF file, and then print on your home printer! There's no need to even leave your house! Except to go splash in puddles. 😉
Don't miss: 25 free printable May 2022 calendars here and 25 printable June 2022 calendars here, 33 free printable July 2022 calendars, and 33 free printable August 2022 calendars.