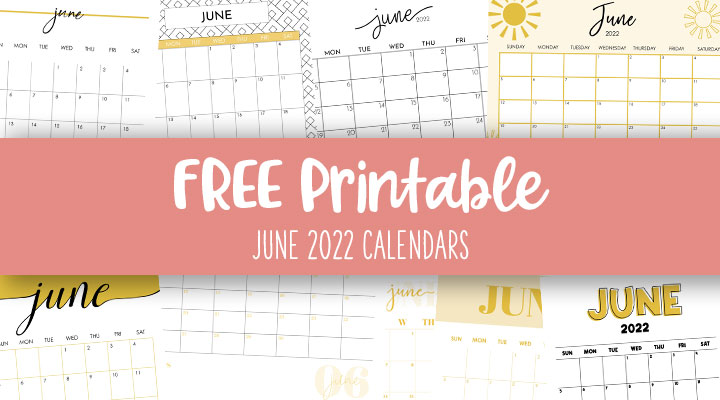 Ah, June is here! Sunshine, flowers, picnics at the park…. June has to be the best month of the year! Even with all the perks that June affords, it is also a reminder that half the year has passed. Do you remember your New Year's resolution to be more organized? Yeah, we remember ours too. It was a good one. Regardless of whether you've been able to keep that resolution this far into the year or not, a brand new month is motivation and reason enough to try again! We can help you get back on the organization train with these free printable June 2022 calendars!
Simply scroll through all 25 calendars available below, click the image(s) of the one(s) you'd like to print and use, download the PDF file to your computer, and print from the comfort of your own home! All calendars are 100% free to print and use.
If you need more monthly calendars, you'll want to check out our free printable April 2022 calendars, May 2022 calendars, July 2022 calendars, August 2022 calendars, 2022 summer calendars, 2022 3 month calendars, or all of our printable calendars.
And if you'd like more organizational printables to help you get organized this month, take a look at these other posts:
Free Printable Monthly To-Do Lists
Free Printable Weekly To-Do Lists
Free Printable Two Week Planners