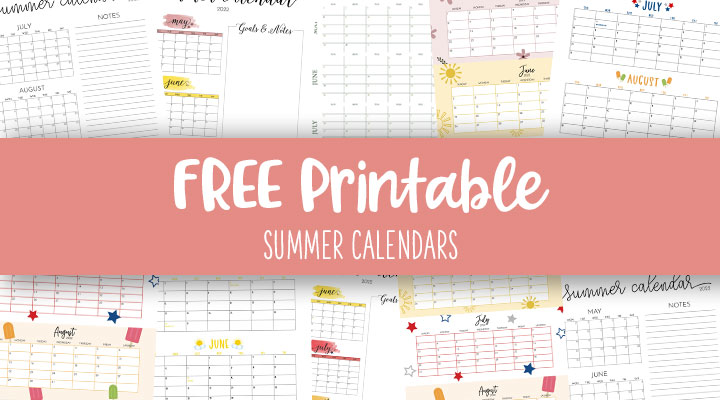 Is school off for the summer where you are? It varies from place to place. Some schools finish the school year sometime in May while others don't start their summer vacations until June or even July! Regardless of when your summer break begins we want to help you find the time to pack in all the fun! Planning in advance is one way to make sure you can fit in each and every activity and also be able to see at a glance what you already have going on so there is no double-booking. Whether you are planning family road trips, play dates, a day at the museum, splash pad fun, or picnics at the park, having a place to jot in all your summer plans is a must.
As mentioned above, you can use these printable summer calendars for planning purposes, but these calendars are also very useful for other things such as tracking reading minutes or the number of books read by your children on summer break, writing in an activity to do every day, summer bucket list items, recipes to try each day, tracking screen time, chores to be done (we also have free printable Toddler Chore Charts and Multiple Children Chore Charts available)…the applications truly are endless and go far beyond the planning of appointments.
Because summer start times vary, we've created summer calendars beginning in either May, June, or July. Each calendar consists of three consecutive months all on one page and is perfect for writing whatever you need!
Simply scroll through the 2022 summer calendars below, and choose the design you like with the starting month you need. Click on the image and download the file to your computer. All you need to do now is print and plan! Happy summer!