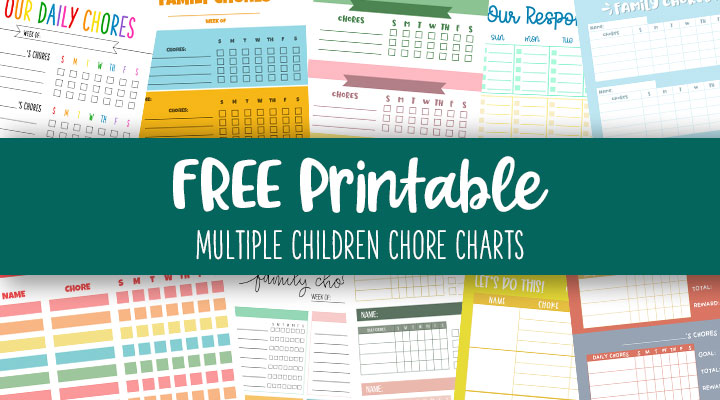 We recently posted some free printable toddler chore charts for you to print out for each of your children. It's nice for them to each have their own chore chart to fill out every day. But if you have many children, it can be a little overwhelming for you to have so many chore charts to keep track of! So if you have several children and want to keep the amount of paper at a minimum we've got a solution for you: multiple children chore charts!
These printable chore charts are so great because you can print off one chart and still have a section for everyone to place their stickers or checkmarks to show their chore chart accomplishments! And to make the chore charts last even longer you can laminate them before posting them somewhere visible like on your fridge or on your family command/organization center.
All you have to do is look at the multiple children chore charts below, click on the one(s) that work for you, download the file to your computer, and print! Getting your kids to actually do their chores may be a challenge, but printing off an awesome chore chart doesn't need to be!
And while you're getting your kids all organized, don't forget to get yourself organized too by printing off some of these other free printables from our site: Monthly Bill Organizers, Two-Week Planners, Hourly Planners, Weekly To-do Lists, and monthly calendars.