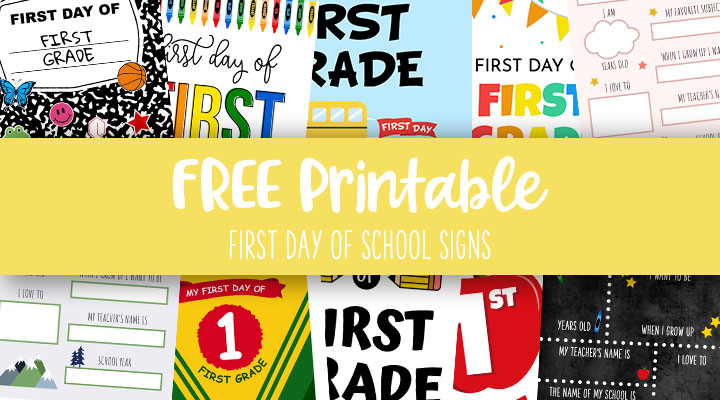 It's that time of year again! Pack a lunch and fill a water bottle, cause it's back-to-school time! Whether your child rides the bus, walks, gets a ride in the car or stays home for school, you'll want to commemorate the first day with a picture. Why not add a sign to that picture to make the memory even more special?
We've created over 300 FREE printable first day of school signs. There are colorful, cutesy, and whimsical designs. Choose from school busses, pencils, crayons, and chalkboards. And each design has versions for every grade from Pre-K through 8th grade so you can print matching signs for each of your kids! Then just have them hold it up and snap a pic. You can even add a printable mustache if you're feeling silly. (And don't forget to choose from one of 50 free printable August 2023 calendars to keep all the back-to-school dates straight or any of our other printable calendars for that matter!)
There are also a variety of editable signs, as well as some you can print and fill out. These signs take a snapshot of what your child is like on the first day of school. You can print 2 and save one for the last day of school, or you can print a bunch and use one every year on the first day of school to keep an easy record of your child's changing interests and likes.
Once you find what you want to print, simply click on the picture of the sign on a yellow background. Note that this yellow background only shows that this is a group of signs. None of the signs have a yellow background, and each is a full standard sheet of paper. Each time you click a group of signs, you'll open a multi-page PDF with the Pre-K through 8th-grade versions all in a single PDF, and you can choose to print only the pages you want. Now you're well on your way to a great school year!
For the editable first day of school signs, please see the instructions further down the page in the editable signs section.
You can also use our printable last day of school signs for the end of the school year!
Editable First Day of School Signs
To edit the school signs below that are noted as "editable", you'll need to use Adobe Acrobat to edit the documents and ensure you have the correct font on your computer BEFORE downloading the document. You can then type in your own details into the document. All fonts are available here: Google Fonts. Additionally, each editable document has the name of its specific font and link listed below the document.
Use this font: Josefin Sans Light
Use this font: Josefin Sans Light
Use this font: Bebas Neue
Use this font: LifeSavers Extra Bold