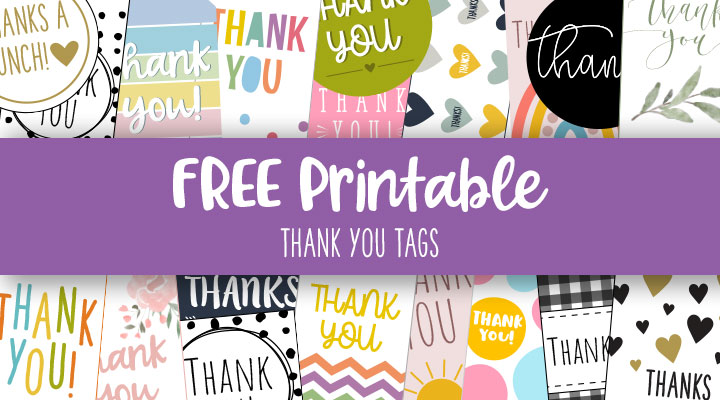 If you've ever attended a wedding reception, a baby shower, or even a birthday party you know how much fun they can be! It is so wonderful to be able to gather with family and friends to support and celebrate one another. Usually, at events like this, there are many people to thank – from the person who hosted, to the people who came to celebrate (and often times bring a gift), to the people who made everything happen behind the scenes. You will usually see a table at the exit door full of party favors or a thank you gift at each place setting to thank those who participated in the big event. No matter what the favor or gift is that is being given, a thank you tag is the perfect addition to share your message of gratitude.
Below, we have 300 thank you tags that you can print for free! There are 60 different designs, each one available in 5 tag shapes. The hardest part, really, is to decide which one(s) you want to use for your upcoming party or just to thank that kind person that needs to hear your gratitude!
From there it's pretty easy: all you have to do is click on the image(s) you want, download the file to your computer, and print from home! You already have enough going on with planning a party – the thank you tag for your favor (or that sweet gift that was left on your porch or delivered at Christmas, or, or…) shouldn't stress you out at all! Now all you need to do is punch a small hole in the tag and/or attach it to your favor or card in some way. It's something simple, but the final product you'll end up with will be so beautiful!