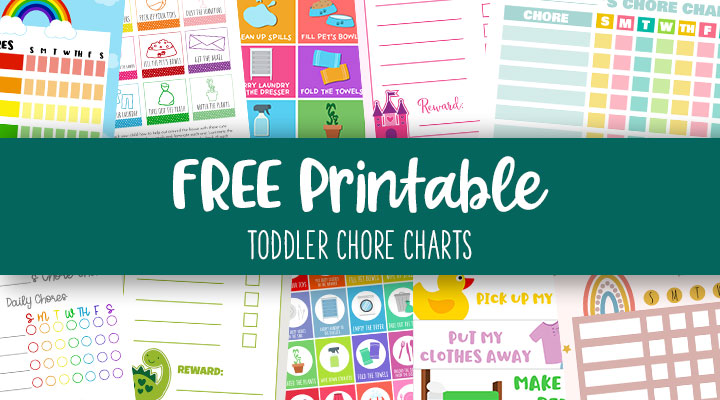 As adults, we may find household chores to be boring, unexciting, laborious tasks. But if you have a toddler in your home, you will have noticed that they love to mimick our actions and be "big helpers" whenever they can! Believe it or not, toddlers love to have some responsibility! While they still need help and a lot of guidance to start, they really enjoy the feeling of contributing in a way that will make mom and dad proud. Toddlers are more than happy to grab the broom and attempt to sweep the kitchen, or to climb up to the kitchen sink and "wash" dishes in the water with a little bit of soap. We've even caught our toddlers with a kitchen towel "wiping down" the seats of the chairs without being asked!
The older children get the more responsibility they can handle and the better able they are to accomplish the chore on their own. Giving children age-appropriate chores is a wonderful way to allow them to learn and grow and become a contributing member of the family.
Below, we have plenty of toddler chore charts that are perfect for toddlers between the ages of 2-5. Just like our morning routine charts and bedtime routine charts, these toddler chore charts have a lot of different options from checking things off a list, moving cards from the "to-do" side to the "done" side, and even placing the picture of the completed chore on top of the chore to be done. The hardest thing you'll have to do is decide which one you want to try first! After you've decided, click on the image, download the file to your computer, and print!
Helpful Supplies
Here are a few helpful supplies we've found when using these printables:
Laminator – A good laminator is perfect for the printables meant for your walls.
Lamination sheets – Replacement sheets for your laminator.
Cardstock – Our favorite cardstock! Perfect for the printables that end up on walls (after laminating) so they last even longer!
Paper – Affordable and good-quality paper!
Paper cutter – Perfect for straight cuts without breaking the bank or needing a massive paper cutter that isn't portable!
Scissors – Our favorite pair of scissors. Perfect for any size or cut!
Velcro Dots – Velcro dots perfect for decorating your walls or the printables that need them.
Disc Magnets – Another great option for adhering your toddler charts where needed.
Dry Erase Markers – Use these colorful and reliable dry erase markers to check off your chore chart each morning.
The links above are affiliate links. This simply means we get a small amount of money if you buy them on Amazon. These are purely optional and provided to help. Whether you need supplies or not, we hope you enjoy the free printables below. No strings attached!
Pages with a green background are just to display multi-page downloads. The downloads themselves do not have a green background. All pages are a full sheet of standard paper.