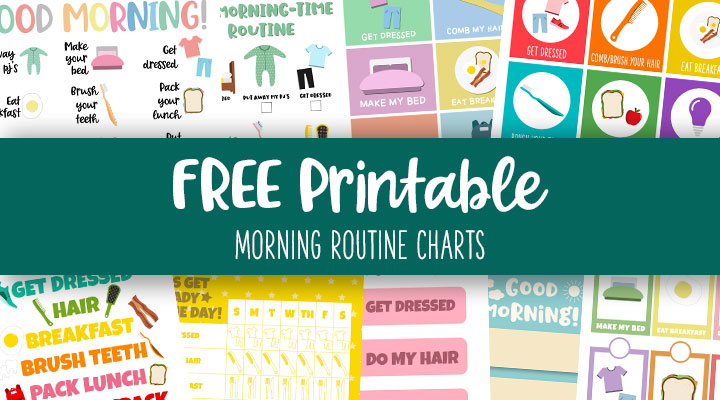 If you have a child or even multiple children living in your house you know how busy and hectic mornings can be. There is always so much that needs to be done to get each child ready and out the door while also making sure they look presentable and are well fed for the day ahead.
While we have these free printable bedtime routine charts (the other hardest part of the day!) already available, we knew there would be a need for these morning routine charts as well! As with the bedtime routine charts, the morning routine charts have multiple options for you to choose from. There are some that require you or your child to simply check the task off on the chart, while there are others where you can attach the completed task to the chart using velcro dots. Find a method that works best for you and your children to help make the mornings run much smoother.
All you need to do is select a routine chart from the options below, click the image and download the file to your computer. Now all that's left is to print it from the convenience of your own home! Mornings may not always be easy, but printing off a morning routine chart? That's about as easy as it gets!
Helpful Supplies
Here are a few helpful supplies we've found when using these printables:
Laminator – A good laminator is perfect for the printables meant for your walls.
Lamination sheets – Replacement sheets for your laminator.
Cardstock – Our favorite cardstock! Perfect for the printables that end up on walls (after laminating) so they last even longer!
Paper – Affordable and good-quality paper!
Paper cutter – Perfect for straight cuts without breaking the bank or needing a massive paper cutter that isn't portable!
Scissors – Our favorite pair of scissors. Perfect for any size or cut!
Velcro Dots – Velcro dots perfect for decorating your walls or the printables that need them.
Disc Magnets – Another great option for adhering morning routine charts/checklists where needed.
Dry Erase Markers – Use these colorful and reliable dry erase markers to check off your routine chart each morning.
The links above are affiliate links. This simply means we get a small amount of money if you buy them on Amazon. These are purely optional and provided to help. Whether you need supplies or not, we hope you enjoy the free printables below. No strings attached!
Pages with a green background are just to display multi-page downloads. The downloads themselves do not have a green background. All pages are a full sheet of standard paper.