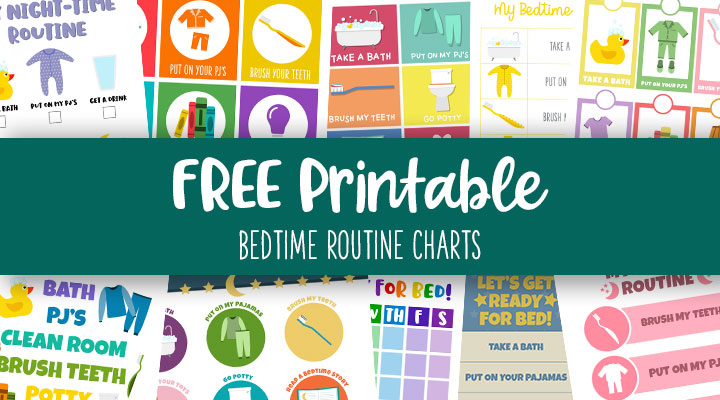 We all know that sometimes bedtime can seem to take forever and there is always the inevitable "one last thing" that needs to be done before everyone can settle down and go to sleep. The idea behind these 15 free printable routine charts is that you can streamline what needs to be done before bed. Once everything is checked off or colored in it's time to drift off to sleep land. You can even laminate these printables or put them in a frame and use it as a dry-erase board so they can be used over and over again. However you decide to use them we hope these printables help you and your children out with the nightly bedtime routine and that those much-needed zzz's come a little bit sooner and easier for everyone.
All you need to do is decide which bedtime routine chart below works best for your family, click to download the file to your computer, and print! Downloading the file(s) and printing them at home is 100% free (as are all the printables on our site)! It can't really get much better than that! 🙂
Helpful Supplies
Here are a few helpful supplies we've found when using these printables:
Laminator – A good laminator is perfect for the printables meant for your walls.
Lamination sheets – Replacement sheets for your laminator.
Cardstock – Our favorite cardstock! Perfect for the printables that end up on walls (after laminating) so they last even longer!
Paper – Affordable and good-quality paper!
Paper cutter – Perfect for straight cuts without breaking the bank or needing a massive paper cutter that isn't portable!
Scissors – Our favorite pair of scissors. Perfect for any size or cut!
Velcro Dots – Velcro dots perfect for decorating your walls or the printables that need them.
Disc Magnets – Another great option for adhering bedtime routine charts/checklists where needed.
Dry Erase Markers – Use these colorful and reliable dry erase markers to check off your routine chart on a nightly basis.
The links above are affiliate links. This simply means we get a small amount of money if you buy them on Amazon. These are purely optional and provided to help. Whether you need supplies or not, we hope you enjoy the free printables below. No strings attached!
Pages with a green background are just to display multi-page downloads. The downloads themselves do not have a green background. All pages are a full sheet of standard paper.