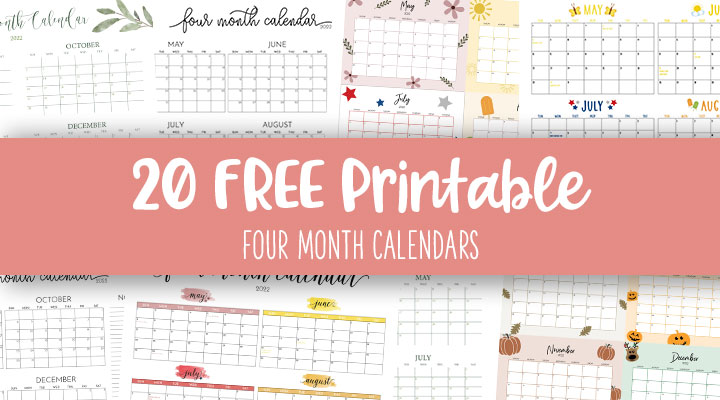 We are all in need of calendars that allow us to plan out our days in detail, like Two Week Planners, Weekly To-Do Lists, and even super-structured Hourly Planners. But other times we just need to be able to see our future plans from a "big picture" perspective for penciling in events such as appointments, vacations, due dates, and other things where the nitty-gritty details aren't the important thing…yet. Having a four-month calendar allows you to easily plan ahead for all the major and important life events – and we've got lots of free printable four-month calendars for you to choose from!
We have had many requests to make our monthly calendars available several months in advance, so we know we're not the only ones who need or like to plan early! Currently, we have May 2022, June 2022, July 2022, August 2022, and September 2022 monthly calendars ready for you to print and plan!
And don't miss out on ALL of our printable calendars!
We've also created these four-month calendars so that you can see everything in the coming months in a single glance. Below, you will find printables that include the months May through August and September through December, both in 5 different designs and styles. They are available in 8.5″ x 11″, which is the standard paper size for printing on home printers. We also have the same styles and months available in 11″ x 17″ that can be printed at your favorite print shop (the prices at different print shops vary and you will need to find the one that works best for you) and posted on your wall for everyone to see and be aware of your future happenings! And all of these calendar files, regardless of size, are free to download and use as needed for personal use.
To download these free printables all you need to do is scroll through the options available below, click on the image(s) you like best, download the file(s) to your computer, and print (or send/take it to your favorite printing store for the larger versions)!
And if you need something specifically for planning your summer, be sure to check out our 2022 Summer Calendars! Happy planning!
4 Month Calendars 2022 – 8.5″ x 11″
Choose from the calendars below if you're looking to print on a standard piece of paper size from your own home!
4 Month Calendars 2022 – 11″ x 17″
Choose from the calendars below if you're wanting your four-month calendar on a larger sheet of paper. Simply click on the image you want, download your file, and then print it wherever it is most convenient for you using the PDF file.