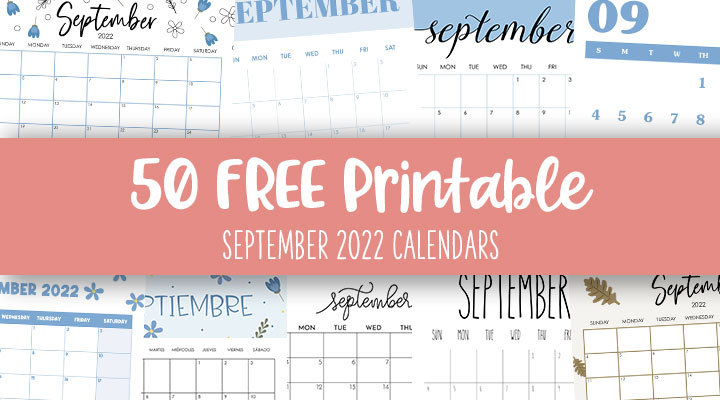 The lazy, hazy, crazy days of summer are now a distant memory. The school year is back in full swing by the time September rolls around, which means there is a lot going on! Whether your kids go to public school or are homeschooled, you teach a class full of children, or you're in a different phase of life altogether, there can be no doubt that your schedule is full this time of year. Everyone is in need of a monthly calendar to keep themselves organized and on top of things! We love printing these calendars and putting them on our fridge, displaying them in our home command centers, adding them to our planners/organizational binders, or anywhere else they need to be seen. They are beautiful enough to display and functional enough to keep everyone aware of what needs to be done every day.

Below, we have 50 free printable September 2022 calendars to download, print, and use! We have the regular designs that we always have available, and this month we've started to add so much more!
The calendars below include Sunday and Monday start calendars, calendars that let you see the previous and next month as small previews, calendars with the weekend days shaded, a couple of large print calendars, an at a glance calendar, a minimalist calendar, a list view calendar that some prefer, three calendars with 2022 week numbers, and five printable calendars in Spanish including one of them as a Monday start. (Additionally, you can check out our August 2022 calendars, 2022 yearly calendars, 2022 quarterly or three month calendars, and all of our printable calendars!)

With ALL of these options, we are confident you will find something that will work for you!

The process of getting one of these calendars couldn't be easier. Take a scroll through all the options below, click on the image(s) you'd like to use, download the file(s) to your computer, and print! It's all free, just like everything else on our site.

If you're interested in other free organizational printables to keep you on track this month, be sure to check out some of our other posts:

Free Printable Monthly To-Do Lists
Free Printable Monthly Budget Planners
Free Printable Monthly Bill Organizers

And if you're looking for free printable educational/back to school resources, check out some of our favorites:

Free Printable First Day of School Signs – updated for 2022-23 school year
Free Printable All About Me Worksheets
Free Printable Letter A Worksheets
Monday Start Calendars
Large Print Calendars
Calendars With Week Numbers
Spanish Calendars – Calendarios Imprimibles de Septiembre 2022
The calendars below include five printable Spanish calendars for the month of September 2022, including one of them as a Monday start.