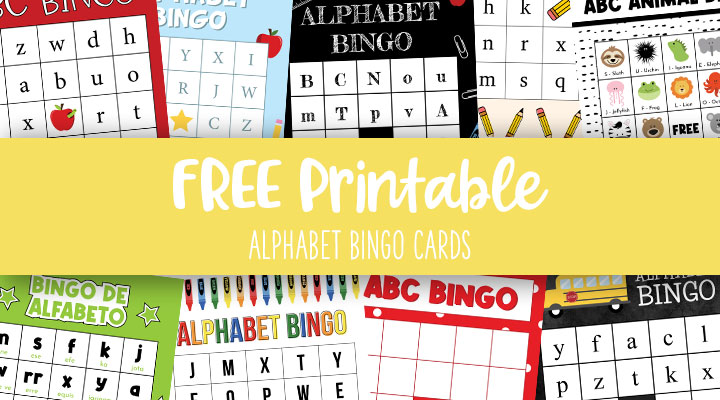 What better way for children to learn the alphabet than by playing Alphabet Bingo! Not only do they learn while having fun, but they will want to play it over and over again and repetition is key to memorizing all the letters (uppercase AND lowercase) as well as their sounds.
Below are 12 printable bingo sets, each with fifteen Alphabet Bingo cards. Some sets are for learning lowercase letters while some are for uppercase letters, and some are even a combination of both! You will also find a blank set for each person to write in their own letters before beginning the game, a set with the Spanish alphabet, and a set with adorable animals for the pre-school crowd. You can use your own markers (think dried cereal, buttons, or even small candies) or you can cut out or punch out the circles included with each set. We like to print these printable markers on cardstock and use this 1″ circle hole punch to make it really easy.
As with everything else on our site these Alphabet Bingo cards are absolutely free for you to print and use! All you need to do is click on the image of the set you'd like to use, download the PDF to your computer, and print from home! Teaching the alphabet to your children at home or to the children in your classroom just got a lot more fun!
Looking for other educational printables? Check out our letter "a" worksheets!
The supplies links above are affiliate links. This simply means we get a small amount of money if you buy them on Amazon. These are purely optional and provided to help. Whether you need supplies or not, we hope you enjoy the free printables below. No strings attached!