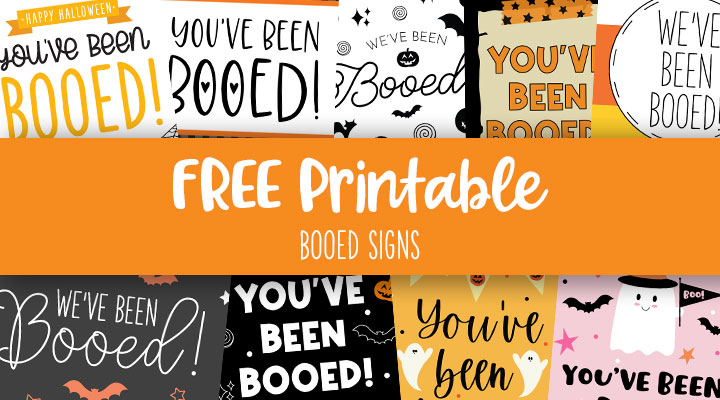 Most holidays have their own traditions that we adopt or create and Halloween is no exception. Between trick-or-treating, bobbing for apples, and carving pumpkins there are lots of Halloween traditions! "Boo-ing" your neighbor may be one tradition that you've seen or participated in with your neighbors. If you've never heard of it before you're in for a treat (literally), and you can be the first to start this Halloween tradition in your neighborhood!
Someone begins the "boo-ing" by buying or making enough Halloween treats for two households in their neighborhood. Then, they print off a set of printables (below) making sure to include a full set (each set includes a we've been booed sign, a you've been booed sign, and instructions) for each of the two households. On October 1st, usually after dark, they deliver the treats and printable signs to the two houses of their choosing – leave them in front of their door, knock, and run away! Be careful not to be seen!
The instructions included with each set will guide the recipients through the process of making two more copies of the signs, buying or making treats, and delivering the goodies to two other households. By the time Halloween rolls around many families around the neighborhood will have been "booed!" It's really fun to imagine someone opening their door to find a Halloween surprise and then passing that joy on to another family.
There are 25 sets of Booed Signs below. Simply click on the image of the set you'd like to use, download the PDF files to your computer, and print! The hardest part really will be deciding on which set to use – they're all so perfect for Halloween! Apart from being extremely easy to download and use, they're also extremely FREE, just like everything else you'll find on our site like these other Halloween printables, for example:
Free Printable Halloween Cards
20 Printable Halloween Word Searches
25 Halloween Borders and Frames
Bat Templates & Coloring Pages
And don't forget to grab one of our 50 free printable October calendars or check out all of our printable calendars!