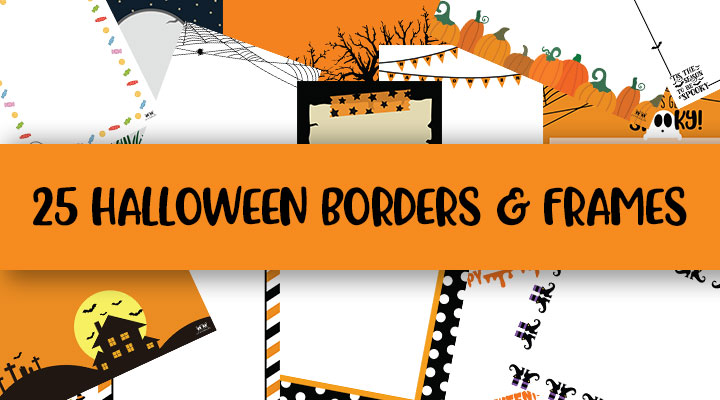 You can never have too much cute and festive paper! Areweright? And while other holidays may make the claim for the highest usage of themed paper (looking at you Christmas!) there is just something about a nicely designed Halloween border full of ghosts, witches, candy corn and other treats, cats, bats, pumpkins, full moons, and so much more.
Halloween borders, or frames as they are sometimes called, are just that – a border around the paper with either a repeating design, creature, or pattern. Or sometimes even a mix of different design elements. Paper with Halloween borders can be used for a ton of things – kids' activities, classroom needs, play dates, writing spooky notes or letters, invitations, announcements, and everything else imaginable. We've found that kids in particular love having something more than just a plain white piece of paper to color on and create crafts with.
Whatever might be your own personal end use, we've created 25 free printable Halloween borders just for you! Each unique border is available in both portrait and landscape orientation. These borders, even though the designs appear a bit smaller in the post below, work perfectly for a standard size (8.5″ x 11″ or 11″ x 8.5″) of printer paper. Just pick the free Halloween border you like most (or two, or four, or eight!), prime the printer, and print away! We hope you enjoy the Halloween season and all the cute paper!
Phew! All 50 printable Halloween borders for your viewing and printing pleasure! Are we missing any? Were you looking for a Halloween border you didn't see? If so, let us know in the comments and we'll work on adding new ones!