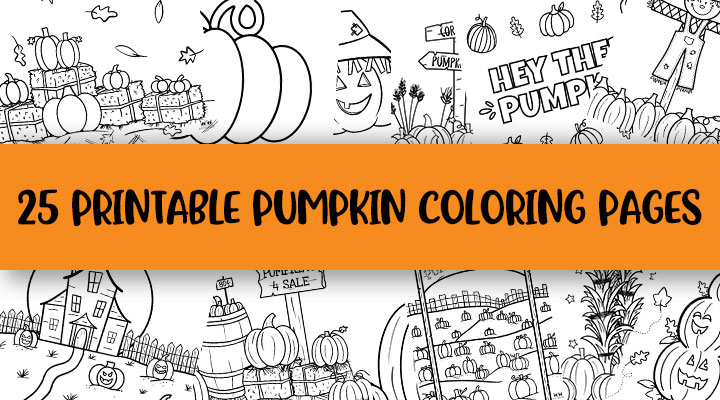 Of all the things associated with Halloween, pumpkins might just be the most ubiquitous of them all! From the enormous pumpkins that make up pumpkin growing contests to farmer's fields full of pumpkins bound for your local department store to all the people who grow them themselves to the widely participated-in family pumpkin carving night, and all the drinks, foods, and desserts that are the delicious after result of said pumpkins (pumpkin pie, anyone!?), it seems it is pumpkins for days!
In addition to all of the fun ways pumpkins are part of Halloween listed above they also make for fantastic coloring pages for kids of all ages. From the most simple of pumpkin shapes to the variety of faces that can be included in coloring pages to the gorgeous settings where they grow, are harvested, and sold in, there is a little bit of something for everyone. And given this simple yet wide variety of possibilities you end up with some beautifully colored pages and pumpkin coloring sheets – no matter how much of it is within the lines! 🙂
To make your Halloween that much more festive no matter how old your children are, we've created 25 unique pumpkin coloring sheets or pages below. Some are simple, some more complex, and some highlight those nostalgic settings we alluded to above. No matter which ones you choose we hope you enjoy the hours of fun these will provide for your kids and maybe more if they turn into decorations like in our home!
As always, each coloring page/sheet is 100% free and can be printed at home. Just click on any image below to then print your file from your own home printer and color away! No limit on how many pages you choose to print nor how many copies you make! Just lots and lots of pumpkin coloring for everyone!