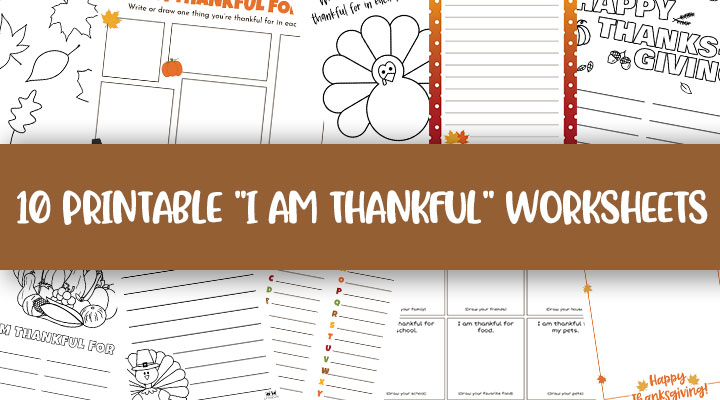 Our small team, like most everyone else we hope, absolutely loves holidays! No work, more family time, creating memories, good food, and so much more. But even within the holidays, we would argue that the Thanksgiving/Christmas period of the year just can't be beaten. There's just too much good stuff to argue otherwise! At least that's the claim we're making! 🙂
One of the great things about Thanksgiving is the focus on gratitude. What a wonderful time of the year to give thanks for all the good things in life and do it while spending time with family. We're firm believers in teaching children to be grateful for the things they have in life and we're hopeful the "I am thankful for" sheets and pages below help instill this in your children, nieces/nephews, grandchildren and whomever else is part of your annual Thanksgiving! Not only can the I am thankful printables below serve to develop one's gratitude but they also work great as coloring pages and one of the many Thanksgiving Day activities that will help keep your little ones occupied while you host or contribute to the big meal! Because we all know how stressful the day can be before at times needy children are factored into the picture!
As with all of our posts, these thankful printables are 100% free and can be printed from the comfort of your own home. Even better, you can print just one or all 10 of the pages if you'd like. And we hope you make as many copies as you need! Maybe there are some adults in your life that could use a good ol' gratitude exercise on Thanksgiving Day! 🙂 Just click on any image below to get a printable version and enjoy your Turkey Day!