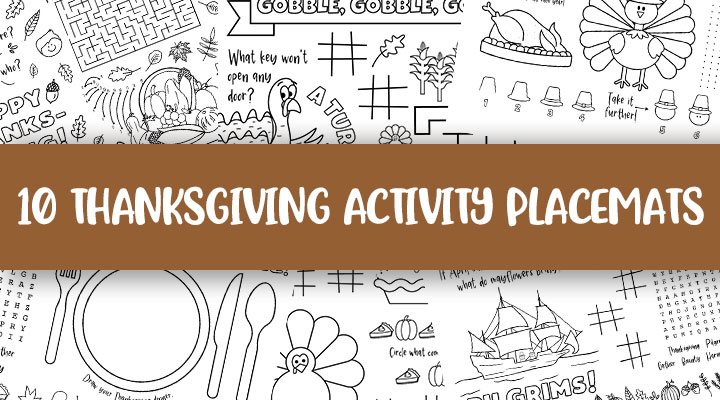 Thanksgiving is one of our favorite holidays of the year! Football, family, and friends gathered 'round, and of course all the delicious food! But let's face it, it's also one of the busiest holidays! It takes a lot of time, work, and effort to pull it off. And if you've got little ones underfoot while you're trying to get the turkey basted with one hand and mashing the potatoes with the other it can feel slightly overwhelming.

Don't worry, we're here to help! These printable Thanksgiving placemats serve two purposes: 1. to make your Thanksgiving table look extra cute and festive, and 2. to entertain those little ones for at least 15 minutes while you make the finishing touches to your Thanksgiving spread. Just add some crayons and/or a few colored pencils and you've got an adorable Thanksgiving activity (here's another: 'I am thankful for' printables) that's sure to put smiles on everyone's faces! And being a free printable 11″x17″ PDF that you can download instantly from our site makes it easy to send to your favorite print shop to have printed. It's literally easier than pie.

Simply scroll through all ten Thanksgiving placemats below, click on any and all of the ones you want to use this Thanksgiving, and download to your computer! In fact, you may want to have a few extra printed for the adults at your Thanksgiving table…they really are that fun!