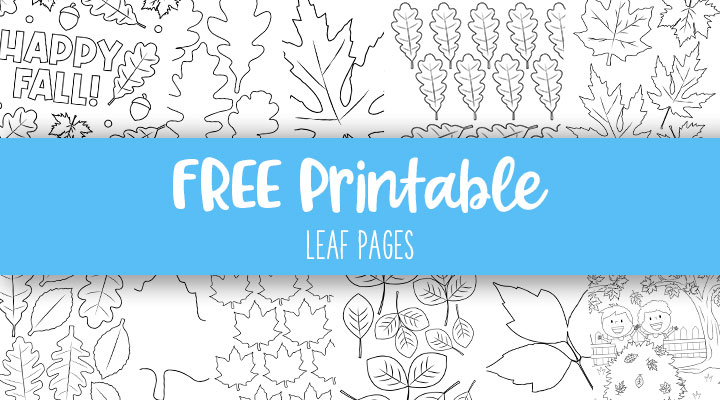 For many locations, the change of season from summer to fall brings not just vibrant and gorgeous fall colors but an endless supply of falling and fallen leaves! And while most adults may view these leaves as nothing more than a burdensome item on the fall to-do list, there's no doubt that's not how kids view fallen leaves! For kids, there is a plethora of activities that involve leaves: everything from raking up huge leaf piles, playing games in the leaves, throwing them up in the air and making it rain, collecting different shapes and types, tracing activities, crafts, and so much more!
To help with this seasonal fun, we've created 55 pages of free printable leaf outlines, patterns, templates, and coloring pages. To download any of the pages below simply click on the page you're interested in, save the PDF to your computer, and print it right from your home printer. All pages are designed for a standard 8.5″x11″ piece of paper. And all of the pages are 100% free with no fine print of any kind!
While you're selecting which leaf pages your kids want most, don't forget to grab yourself a free printable September calendar (choose from 15 different designs!) to keep things organized in your home!
Leaf Coloring Pages
Choose from 13 different printable leaf coloring pages below. These are perfect for your little ones during the fall. Further down the page are over 40 additional printable leaf outlines, templates, and patterns!
Leaf Outlines, Templates, and Patterns
Choose from a wide variety of printable leaf outlines, templates, and patterns below. Leaves include maple, oak, and many more. Likewise, these printable pages have leaves of all varying sizes that will work great for a myriad of fall-related activities!