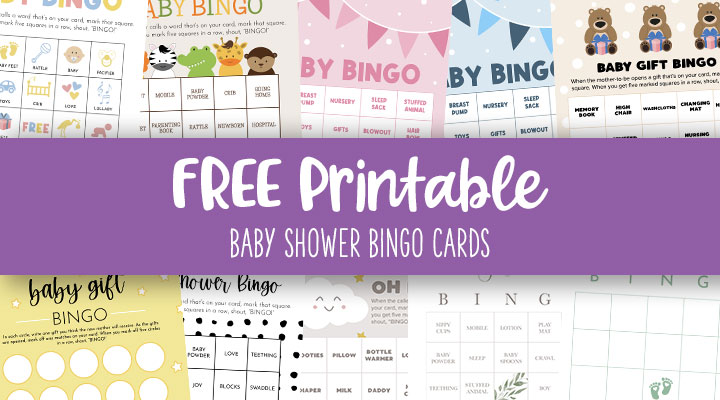 It is always exciting when a baby is born! Everyone from immediate family members, extended family, friends, coworkers, and neighbors want to celebrate the coming or arrival of the new little one and often do so by having a baby shower – to shower to new parents and child with adorable, useful, and much-needed items. Baby showers are also a time to play some fun baby-related games such as these Baby Shower Bingo Cards that we are posting here today! There are 10 unique sets and each one has at least 15 cards per set; some even have 25 cards per set for those with a larger guest list. Many of these sets have baby-themed words already provided while some are blank for people to write in their own words or what they think the parents-to-be will receive as gifts. There are also sets with pictures, boy and girl-themed sets, and so much more.

The best part of all, aside from all the options available, is that all of these sets are absolutely FREE to print and use! Just because babies (and baby showers) are expensive, entertaining all the guests doesn't need to be. All you need to do is decide which bingo card set you'd like to use (good luck – they're all so cute!), click to download the PDF file, and print the instructions and bingo cards from home!
Helpful Supplies
Here are a few helpful supplies we've found when using these free printable bingo sets:
Laminator – A good laminator is perfect for your printable bingo cards and can even be used for the circular markers as well.
Lamination sheets – Replacement sheets for your laminator.
Cardstock – Our favorite cardstock! Perfect for the bingo cards and markers so they last even longer!
Paper – Affordable and good-quality paper!
1″ Circle Hole Punch – Perfect for cutting out the markers as quickly as possible!
Scissors – Our favorite pair of scissors. Perfect for any size or cut!
The links above are affiliate links. This simply means we get a small amount of money if you buy them on Amazon. These are purely optional and provided to help. Whether you need supplies or not, we hope you enjoy the free printables below. No strings attached!
Pages with a purple background are just to display multi-page downloads. The downloads themselves do not have a purple background. All pages are a full sheet of standard paper.