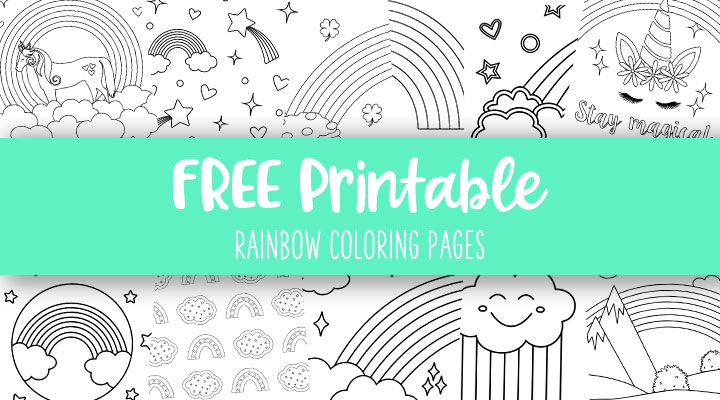 If there's one pattern we all know well it's the order of the colors of the rainbow! Red, orange, yellow, green, blue, (indigo if you'd like), and purple. Adults and children alike are often excited and amazed to see a rainbow in the sky after a rainfall – it's always magical and seems to be somewhat of a rare occurrence.
So if you, your child, or your students haven't seen one in a while, this assortment of 50 rainbow coloring pages is just the thing you need to practice this colorful pattern. Below, you will find rainbow patterns, outlines, and templates in all sorts of combinations – many even include a bit of whimsy with unicorns, pots of gold, and clouds. They are perfect for going along with seasonal themes as well as holidays and just some good ol' coloring fun.
It's really quite simple to download these files, especially since they are 100% free to do so! Simply click on the image(s) you'd like to color or use below, download the PDF file to your computer, and print! They are all intended to be printed on 8.5″x11″ paper, which is the standard size for home printers, so you can print them right now from home!

You will also want to check out our free printable coloring pages for the upcoming fall season, including our 25 Printable Pumpkin Coloring Pages, 15 Printable Halloween Ghost Coloring Pages, 15 November Coloring Pages, and our 25 Turkey Coloring Pages! We see lots of coloring in your future! 🙂