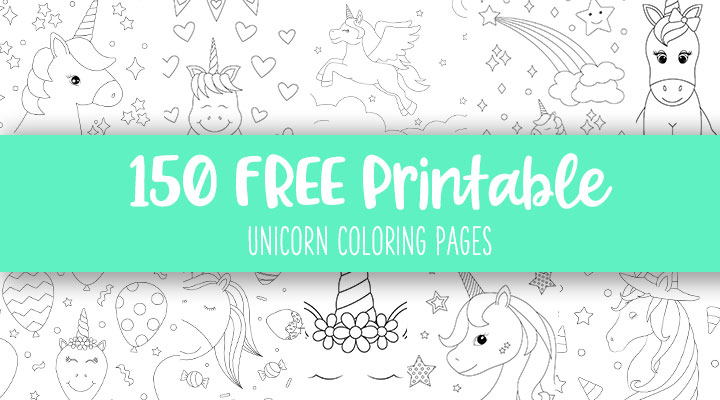 We've already posted lots of Rainbow Coloring Pages and now we're back with even more coloring fun: 150 Unicorn Coloring Pages! Yes, you read that right – one hundred and fifty! Whether you're looking for an activity to keep your kids busy during their summer break, happily occupied in the car, sitting quietly at the doctor's office, as an activity for a unicorn-themed birthday party, or you simply just want to put a smile on your unicorn-loving child's face, there is so much here for you!
It is so easy to print off several of these pages and staple them together, hole-punch them and place them all into a three-ring binder, or bind them into a coloring book (either with a binding machine or by taking the printables to a print shop to be printed and/or bound). You can print every single page, or just pick your favorites by scrolling through the options below, clicking on the image(s) you'd like to use, downloading the PDF file(s) to your computer, and printing!
With this many unicorn coloring pages at your disposal, we hope you have plenty of crayons/colored pencils/markers available!
Looking for even more coloring pages? Check out all our coloring pages here – we've got oodles of them, and all are free to print!
Unicorn Coloring Pages
Baby Unicorn Coloring Pages
Unicorn Head Coloring Pages
Rainbow Unicorn Coloring Pages
Unicorn Birthday & Birthday Cake Coloring Pages
Flying & Winged Unicorn Coloring Pages
Holiday & Christmas Unicorn Coloring Pages