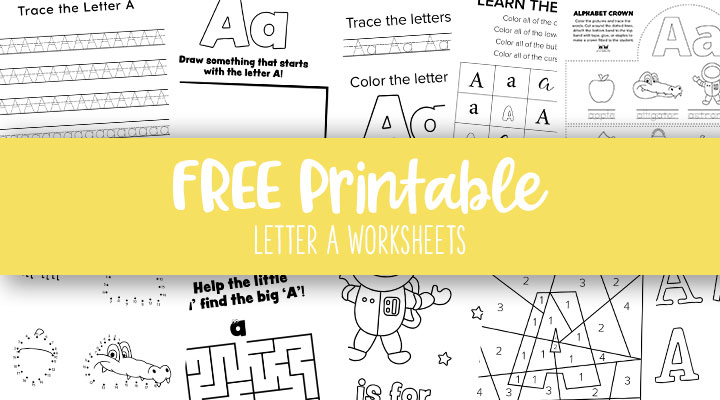 Reading is the foundation of every education, and the alphabet is the foundation of reading. Challenge your early reader with these free printable letter A worksheets. There is such a wide variety! There are dot-to-dots, cut and paste letter a activities, pictures to draw, coloring pages, bubble letter a's, and, of course, lines to trace and then write your own letter A's.
These worksheets are totally free, so please print as many as you'd like. They can be used by public or private school teachers, by parents running a co-op, by homeschoolers, or by anyone who wants to help their child learn the letter A. Your little learner will have fun with the huge assortment of activities available to him or her.
Once you choose the sheet you want, simply click on it to open it in a new tab. From there, print or download to your machine. There are a few that have 2 pages, and those are displayed with both pages over a yellow background. The actual pages do not have a yellow background, and each of the two sheets takes up a full standard sheet of paper.
While you're working on these, maybe you'd also enjoy our free days of the week worksheets and printables. After all, a good schedule is the foundation of an organized life, and the days of the week are the foundation of a good schedule. Happy learning!
Don't Miss: You might also want to check out our Letter A Coloring Pages as well as all of our Alphabet Coloring Pages.