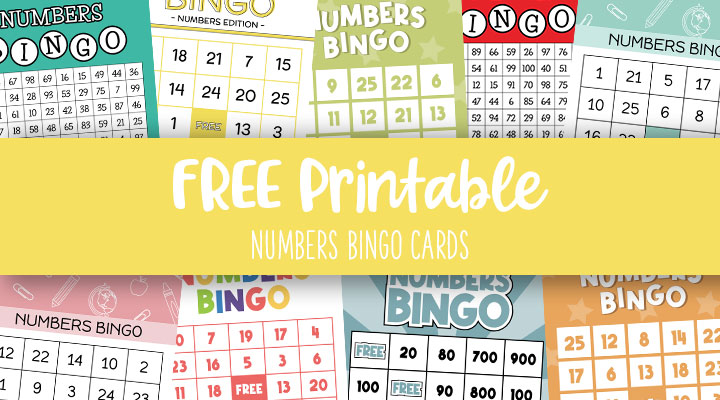 For the first few years of school children focus on learning their numbers, starting with 1-10 and then gradually building until they can count to 1000! It is quite an accomplishment for a young child to hit each milestone. Just like with our Alphabet Bingo printables (we also have printable baby shower bingo as well!), learning numbers can be both educational and fun! Repetition is key to learning to identify numbers and their values.
Below we have six sets of free printable Number Bingo cards to choose from. Four sets are for those learning numbers 1-25, one set for children learning to count all the way to 100, and another set for kids learning to count to 1000 by 10's and 100's. Each set has 15 bingo cards so lots of children can play at one time. You can use your own markers to mark the spaces as they're called (such as cereal, coins, buttons, small candies, etc), or you can use the circles provided with each set. To prep the printable markers you can print them on cardstock and then either cut them out by hand or use a 1″ hole punch, or a 1/2 hole punch depending on which set you're using. We've included some helpful supplies further below if you're looking for hole punches.
Another variation on playing Number Bingo other than simply calling out the number is by calling out an equation with the correct response being the same as the number drawn. For example, if the caller draws the number "5", he or she could call out "2+3" and then the children could have to do the math to figure out which number on their bingo card to cover. This is a great option for children who are just learning addition and subtraction.

Whether you are a teacher or a parent there is no doubt that the children you are teaching will enjoy learning their numbers! All you need to do is click on the image below for the set(s) you would like to use, download the PDF file to your computer, and print! To make them last through multiple uses (because we know they'll want to play this more than once!) you could print on cardstock, or even laminate them. We like to use this laminator and laminating sheets for all of our printables that we intend to use often.
Looking for other printable worksheets and resources? Check out our letter "a" worksheets!

Happy counting!
Helpful Supplies
Here are a few helpful supplies we've found when using these free printable bingo sets:
Laminator – A good laminator is perfect for your printable bingo cards and can even be used for the circular markers as well.
Lamination sheets – Replacement sheets for your laminator.
Cardstock – Our favorite cardstock! Perfect for the bingo cards and markers so they last even longer!
Paper – Affordable and good-quality paper!
1″ Circle Hole Punch – Perfect for cutting out the markers as quickly as possible!
1/2″ Circle Hole Punch – For the 1-100 Bingo Set's circular markers.
Scissors – Our favorite pair of scissors. Perfect for any size or cut!
The links above are affiliate links. This simply means we get a small amount of money if you buy them on Amazon. These are purely optional and provided to help. Whether you need supplies or not, we hope you enjoy the free printables below. No strings attached!
The yellow backgrounds in the preview images below are just to display multi-page downloads. The downloads themselves do not have a yellow background. All pages are a full sheet of standard paper.