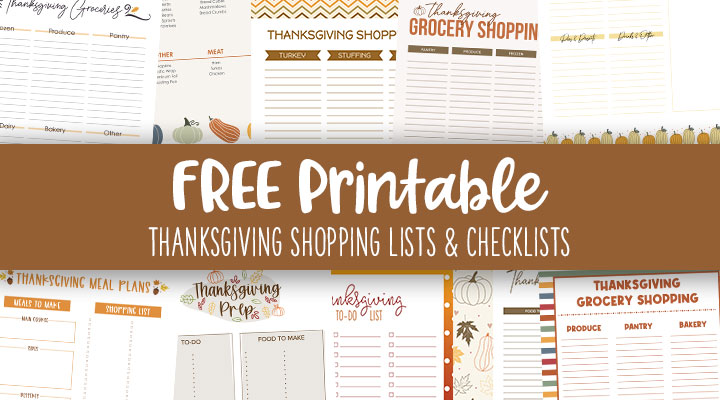 It is time to start thinking about Thanksgiving! Sure, it may be a month away, but there is a lot to do in those four weeks! Of course one of the main things to prepare and plan for is the Thanksgiving meal itself. But there is also decorating, sending out invitations ahead of time, and a lot of shopping to be done. Planning ahead will not only allow you to shop for the non-perishables and other items early in the month, save you money by keeping you on budget buying only what you need, but it will also help you relax and enjoy this season.
To help you get organized for the big day we have 20 Thanksgiving shopping lists (Pro Tip: Shop your pantry first! Make your shopping list and then look in your kitchen and pantry for items you may already have.) and 10 Thanksgiving Checklists – make sure you plan out all the things to help you have a stress-free holiday.
To get your free printable Thanksgiving shopping and to-do lists, all you need to do is click on the image(s) below that you'd like to use, download the PDF file to your computer, and print! It's seriously so easy! Now if only preparing all this food was as easy as the click of a button…
Need even more printables to help keep you organized? Choose from 50 different November and/or December calendars or check out all of our printable calendars!
Thanksgiving Shopping Lists
Use these free printable Thanksgiving shopping/food lists to make sure you have ALL the food you need for the big day!
Thanksgiving Checklists
Use these free printable Thanksgiving checklists to plan for not just the food but everything else that comes with pulling off one of the biggest days of the year!