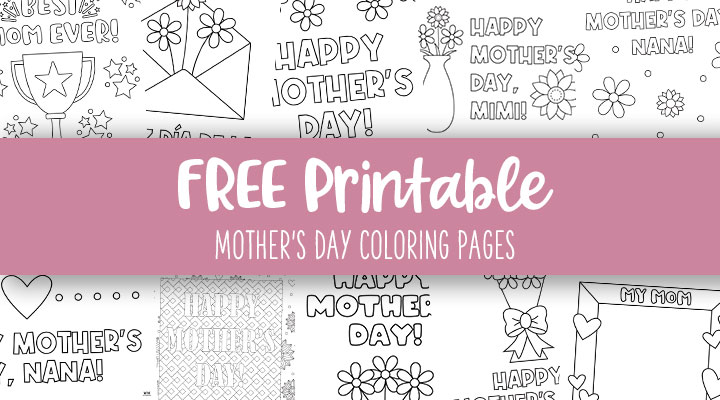 Mother's Day is a wonderful day in which children show their appreciation for their mothers with homemade cards, tiny handprints eternalized in clay, gifts made out of popsicle sticks and pipe cleaners, and sunflowers started in plastic cups. What heart-warming gestures of affection! We know that children adore their mothers and love the opportunity to show them what they've created for them.
For young children learning to color (or who have already mastered the art!), we've posted 50 Mother's Day coloring pages below that they can choose from, print, and use to showcase their skills as a gift for Mom this Mother's Day. Included in the 50 coloring pages are ones specific to Grandma, Mimi, Nana, and Abuela (the Abuela coloring pages are all in Spanish). And if that weren't enough, we also have a handful of Mother's Day coloring pages in Spanish and a few adult coloring pages which would also be perfect for older children or youth to color. Whichever one your child chooses to color we know that it will melt the heart of the recipient!
To print your coloring page(s) you simply need to scroll through the options below and decide which one(s) you want to color, click on the image(s), download the file(s) to your computer, and print! All you need to do now is have some fun coloring, present it to your mom, and give her a big hug!
And if you want to get a headstart on Father's Day next month, be sure to check out our Father's Day Coloring Pages!
Mother's Day Coloring Pages
Happy Mother's Day Coloring Pages
Happy Mother's Day Grandma Coloring Pages
Happy Mother's Day Mimi Coloring Pages
Happy Mother's Day Nana Coloring Pages
Happy Mother's Day Coloring Pages In Spanish
Happy Mother's Day Grandma Coloring Pages In Spanish
Happy Mother's Day Coloring Pages For Adults