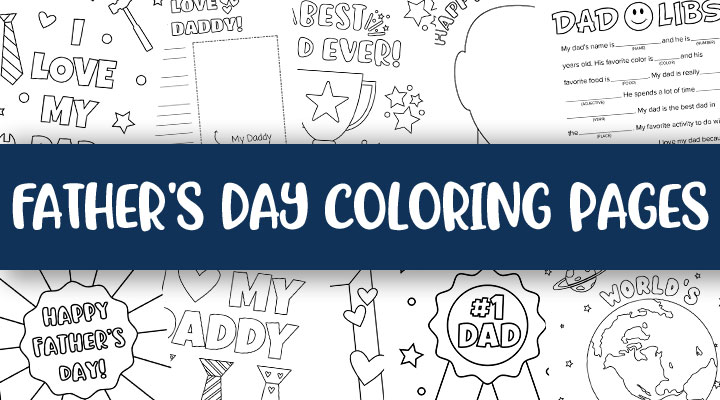 Father's Day is fast approaching! This year, in addition to a tie and a new pair of socks, how about you get your husband something he'll treasure, like a priceless keepsake created by his favorite tiny humans? We've created just what you need: 10 printable pages that you can use to make a gift he'll love to look back on. There are coloring pages, Father's Day card templates (the last two are foldable), and fill-in-the blank pages to record what your kids love about their dad.
Using these pages is easy! Print them out and give them to your kids. Prompt them to use their best coloring. On the pages that require writing, you can write the answers given by younger children and allow older kids to fill them in on their own. Once they've finished, make an adorable keepsake book! You can staple the pages together or fasten them with string. You can also laminate the pages and bind them or put them in page protectors in a 3-ring binder. If you have multiple children, you can make several books, or you can choose your favorite pages and make one book from all of them.
Getting these free pages for yourself is simple. Just click on the image to open it in a new tab. From there you can download it or print it. It's that easy! And if you like these Father's Day coloring pages and want to keep the fun going, check out our free printable mustache templates. You could use them to create a silly sketch with your kids about your husband and his day. Then they can present it to him when they give him his keepsake book. Maybe you won't have to get him socks after all!
Hopefully these resources will help you wish Happy Father's Day to all the dads out there.
You can also check out our 50 FREE printable Father's Day cards as well!