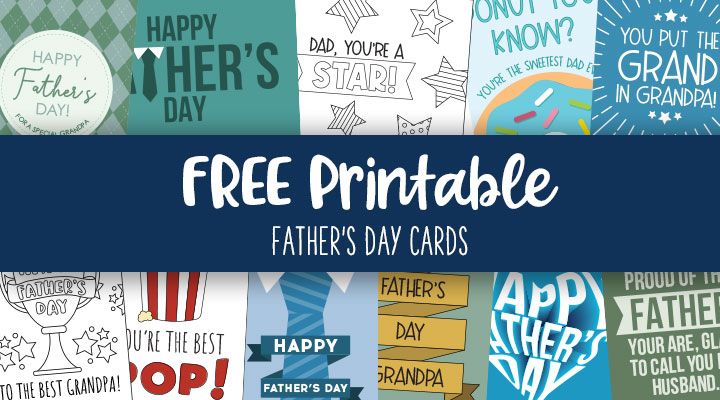 We know that nothing makes parents smile more than a heartfelt card or picture from their children. We know this because we see them all over kitchen fridges, taped to office walls, propped up on fireplace mantels, and even framed and displayed predominantly in homes everywhere. As parents ourselves, we can also admit to having boxes filled with drawings and messages from our kids that warm our hearts.
While we already have 10 Free Printable Father's Day Coloring Pages for your child to enjoy making for their dad (great for the younger crowd!), we would like to add a bunch of free printable Father's Day Cards (some can be colored, others are already colored, some are foldable, etc.) for your kids (and you!) to use to write a special message just for dad! They could give him just the card itself as a meaningful gift, or they can tuck a gift card to dad's favorite store or restaurant inside, or even attach it to a fun gift.
However you and/or your child decide to gift it, getting it in the first place couldn't be easier: simply take a look through the options below, choose the one that would be perfect for your dad, click the image and download the PDF file to your computer, and print! You can also make your card a bit sturdier and print it on cardstock (aff link)!
Now all that remains to be done is a little bit of coloring, some words written to express love for dad, and a few kisses blown in for good measure.
Printable Father's Day Cards From The Family – Kids + Wife
Printable & Free "Happy Father's Day" Cards
Happy Father's Day Cards For Grandpa