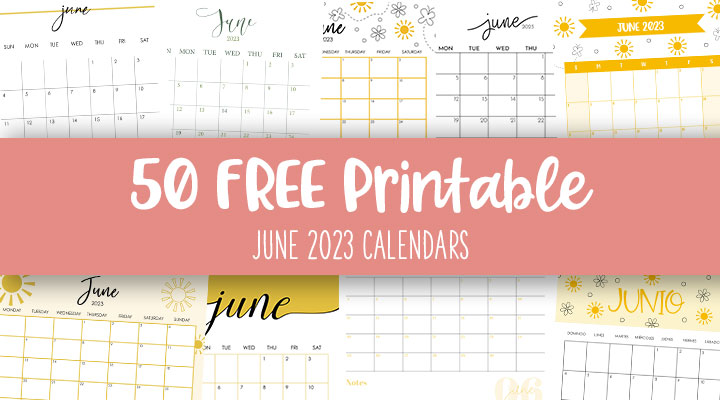 It is no wonder June is a popular month to get married. The weather is warm enough to allow for outdoor venues, all the beautiful foliage and flowers are on full display, and the sunlight lasts long into the night. For all the same reasons, this month is perfect for more than just weddings: camping, hiking, traveling…this is a great month to do them all!
Planning all your everythings is a cinch when you have a calendar to help you out. Below, we have 50 Free Printable June 2023 Calendars to get it all organized. All you have to do is look through the calendars to find the one that is perfect for you (which is easier said than done – they're all so pretty!), click on the image of the one you'd like to print, download the PDF file to your computer, and print! The last thing left to do is to jot in all your fun plans and get dreaming of long summer days ahead!
For more organizational printables, hop on over to these freebies:
Free Printable Hourly Planners
Free Printable Weekly To Do Lists
Free Printable Two Week Planners
Free Printable Monthly To Do Lists
And a couple for the little ones:
Free Printable Reading Logs & Summer Reading Logs
Free Printable Summer Bucket Lists
And if you need free printable Last Day Of School Signs as you wrap up May/the school year we have over 300 of them when you account for all the different designs + grade levels! These free printable Thank You Cards also work great for teacher gifts!
Monday Start Calendars
Large Print Calendars
Calendars With Week Numbers
Spanish Calendars – Calendarios Imprimibles de junio 2023