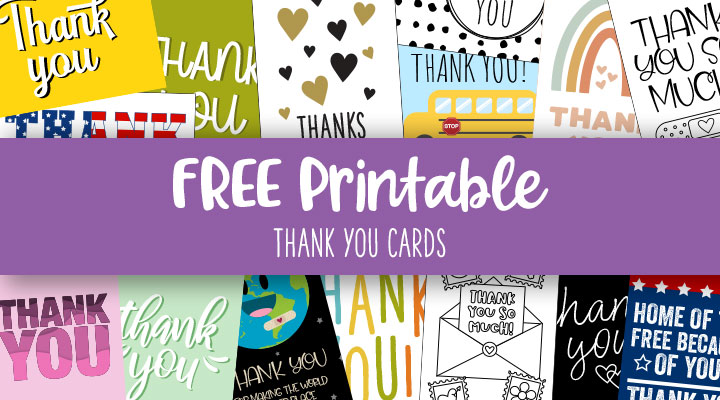 Everyone loves a thank you card. Whether you are the one writing them to show your appreciation for what others have done for you, or you are the recipient of someone's gratitude, a thank you card always brings a smile to everyone's face.
There are so many occasions for which you may need to write a thank you card. Everywhere from baby showers to birthday parties, weddings, teacher or medical worker appreciation, small acts of kindness…the list goes on! Don't worry – we've got you covered with 150+ free printable thank you cards for you to choose from! Some of them are single-sided while others are foldable and even double-sided, some of them are colorable (which is great for kids to be able to create their own thank you cards!), and others are black and white in case you don't have a color printer (or if you just like the look of black and white, which we do!). With so many options we are sure you'll find one for whatever occasion you need! And if you need a little "thank you" tag to go along with a small gift or favor you may want to check out our Free Printable Thank You Tags!
All you need to do is look through the cards below, pick your favorite(s), and click the image to download the (PDF) file to your computer! You can then print your card(s) from the convenience of your own home (we recommend using cardstock to make them nice and sturdy).
The only thing better than having something to thank someone for is being able to do so for free with such cute cards!
All cards are 4″ x 6″ or 6″ x 4″ in size depending on their orientation. Many sheets have two cards per sheet, some cards are foldable, while others are double-sided. Double-sided cards have a purple background in the preview images below.
Helpful Supplies
Here are a few helpful supplies we've found when printing these thank you cards:
Cardstock – Our favorite cardstock! Perfect for a more sturdy card!
Paper – Affordable and good-quality paper!
Paper cutter – Perfect for straight cuts without breaking the bank or needing a massive paper cutter that isn't portable!
Scissors – Our favorite pair of scissors. Perfect for any size or cut!
The links above are affiliate links. This simply means we get a small amount of money if you buy them on Amazon. These are purely optional and provided to help. Whether you need supplies or not, we hope you enjoy the free printable thank you cards below. No strings attached!
Printable Thank You Cards
The section of free thank you cards below offers a WIDE variety of cards many of which allow for a handwritten thank you note on the backside of the card once it is printed and cut to size. All the downloadable PDFs in this section feature two thank you cards per page except the last one which is a foldable thank you card.
Printable Baby Shower Thank You Cards
Use one of these super cute printable baby shower thank you cards for the shower that your friend or loved one throws for you. The last card is a foldable thank you card though all of them have plenty of space (i.e. on the backside) to write a personal thank you note to the gift givers and/or attendees.
Printable Thank You Coloring Cards
The thank you cards in the section below are "coloring thank you cards" in that your little ones will have a great time coloring them to their desires! Simply click the preview image you want, download the thank you card PDF, print, and then let them color to their heart's content! The final card is a foldable card.
Printable Thank You Cards – Black and White
There's just something about the beauty of black and white design! Choose from a handful of black and white cards below or grab the final one in the section that is foldable!
Printable Teacher Thank You Cards
Did your student have an outstanding teacher this past year? Or did the teacher just do something amazing? Either way, the teacher thank you cards below are perfect for your pupil to give to their teacher. Colorful and bright, each card also allows the student to write a personal note on the backside of the card.
Printable Foldable (& Colorable!) Thank You Cards
While the various sections in this post feature one or two foldable thank you cards the section below is purely foldable ones. Simply click the image, download the PDF, print it at home, fold it and then finalize it with some coloring and/or a handwritten note.
Printable Military Thank You Cards
Do you have a neighbor, friend, or family member/loved one that has served or is serving in the Armed Forces? What better way to express your gratitude then with these printable military thank you cards!? Write them a note thanking them for their selfless service or simply sign your name, either way there is no doubt they'll appreciate the gratitude expressed. The final card in this section is foldable.
Printable Medical Staff Thank You Cards
Thank the medical professional or worker in your life with these cute thank you cards meant for nurses, doctors, and the like. The final card in this section is a foldable thank you card.
Printable Birthday Thank You Cards
Let those attending your hosted birthday or giving gifts know you're thankful by giving them one of these birthday thank you cards. Each sheet features two printable cards and the final one is a foldable birthday card.
Printable Pun Thank You Cards
Your gratitude doesn't always have to be serious! Have some thank you fun with these thank you cards featuring some fun puns. We're positive your kids will love these ones!
Printable Wedding Thank You Cards
Use these beautiful printable wedding thank you cards (and save a little money in the process) to say thanks for all those that came and/or brought gifts! The final card in this section can be folded and all of them have plenty of space for a personal note.
Printable Double-Sided Thank You Cards
All of the downloads below feature two double-sided cards per page. The purple background is just to help preview the cards. Simply print the cards in a double-sided fashion with your home printer and voila you have free double-sided thank you cards with space still to write a personal note!