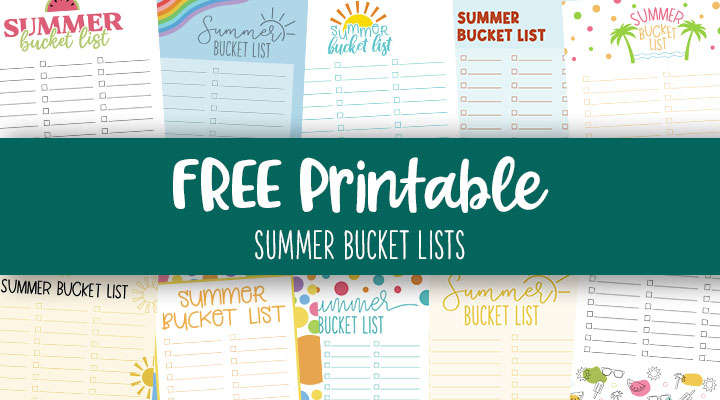 After a busy school year, we all look forward to the R&R that a summertime schedule provides and look forward to the two-ish months of leisureliness. We daydream about days with plenty of fun in the sun, trips to the park, ice cream cones at the local creamery, and of course, water balloon fights. But as we've learned from experience in years past, the summer months tend to slip away from us and before we know it we are left attempting to squeeze in every last drop of summer fun into the last week of vacation before school starts up again in the fall.
Enter the bucket list. Some people use bucket lists to help them accomplish their goals and dreams for their entire lifetime, but the 20 free printable summer bucket lists/templates we have available below are just to help us get the most out of our summertime months!
At any point during the summer (though preferably at the beginning so you get the most out of it!), have your kids write in all the things they would like to do and accomplish. Maybe they'd like to set a goal to read 10 books (see our free printable reading logs here), or would like to play at three different water parks, or go camping as a family. After writing everything in, make a plan to accomplish as many things as possible from their bucket lists! (You can use our Free Printable Summer Calendars to help you work out the details.) By the time summer comes to an end, you will all be able to look at the bucket lists and see that you really had a fun and rewarding summer indeed!
Printing out your own bucket list(s) couldn't be easier: simply scroll through the 20 design options below, click on the image(s) you want to use, download the PDF file(s) to your computer, and print! Now you just need a sharp pencil or a pen to start writing in all the great things you'll do this summer!