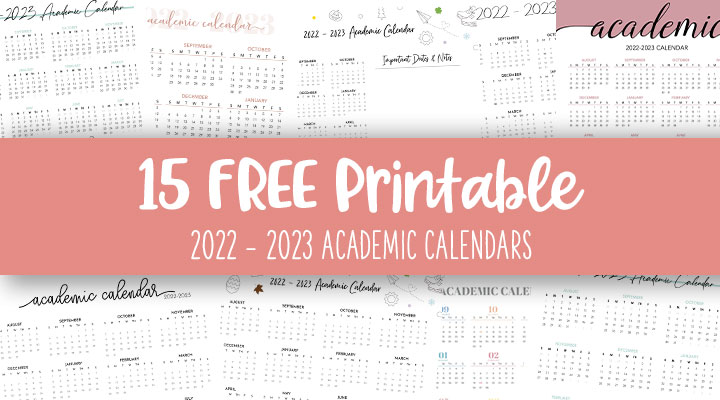 With a new academic school year starting up soon, we know many people will be wanting to get organized and put themselves in the best position possible for achieving success. As tests, assignments, and other due dates are assigned the details aren't necessarily the most important part…yet. In the beginning, a macro view of everything you have going on will allow you to see and get a visual perspective of how your next few months will play out and help you organize your time accordingly. It also ensures you don't schedule any other appointments or vacations when you have a major test or otherwise double-book yourself.
Below, we have 15 Academic Calendars for the 2022-2023 school year (similar to our 2022 Yearly Calendars) that are perfect for circling your important dates. So grab a set of multi-colored pens and get ready to color-code your dates by class, type of assignment, personal commitment, etc. So you can jot down exactly what you need each calendar design also has two versions – one with an "Important Dates & Notes" section and one without.
To print your 2022-2023 school year calendar, simply scroll through the design options below, click on the image of the one you like best, download the PDF file to your computer, and print! It's so easy! Getting organized doesn't need to be difficult…we'll leave the difficulty for all your homework assignments!
Please note: the pink background you see in the images below will not print. The actual calendars are all 8.5″x11″ in either portrait or landscape orientation and have a white background.
Also, be sure to check out some of our other free printables that will help you in your organizational efforts this school year:
Free Printable Hourly Planners
Free Printable Weekly To Do Lists
Free Printable Two Week Planners