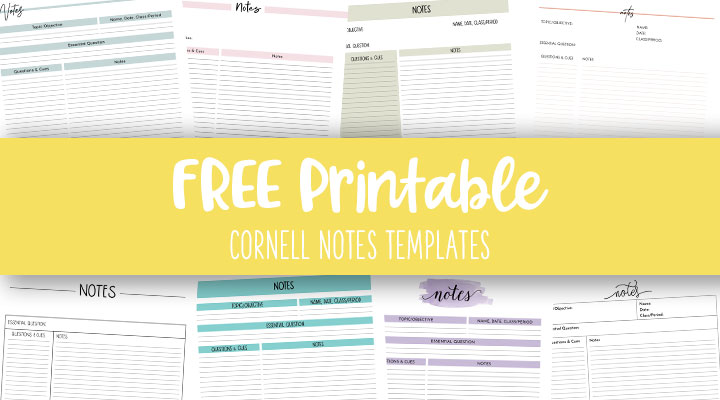 The start of the school year is imminent and that means that before long note-taking will be a critical part of one's success for students from middle school through college. Note-taking methods can be as varied as individuals or penmanship with each person having their own method and shorthand to keep up with the professor's verbal, written, or video lecture. But perhaps the most widely used note-taking method, especially at the college level, is called the "Cornell Notes System or Method".
The Cornell Notes method was developed by an education professor at Cornell University in the 1950s by the name of Walter Pauk. This method of note-taking follows a very specific formula in which the note-taker writes down all the key concepts presented during the lesson/lecture in a middle/right column and then reviews the notes afterward and jots down questions, cues, etc. in a left-hand column as well as a brief summary in a bottom section. The note-taker is then encouraged to review the notes in these three sections regularly so as to retain a greater percentage of the information presented.
While studies of the effectiveness of the Cornell Notes method are mixed and debated, it remains a very popular note-taking method to this day.
While our aim isn't to perfectly lay out the ins and outs of the study method of the Cornell Notes system, nor debate its effectiveness, we do believe it is a great approach for students looking to retain more information and do well in school. As such, we've created 15 printable Cornell Notes templates (PDFs) that can be downloaded for free and used whether you're in middle school, high school, or college.
To print out any of the Cornell Notes templates below, simply click on the image of the design you like best and then either download or print the template's PDF file from the new tab in which it opened. Click and print. It's that simple!
We hope that these free (and pretty/cute if we might say so ourselves) Cornell Notes templates help make your studies all the easier this coming academic year!
You can also check out our 2022-2023 Academic Calendars (or ALL of our free printable calendars) to keep yourself organized this coming school year!