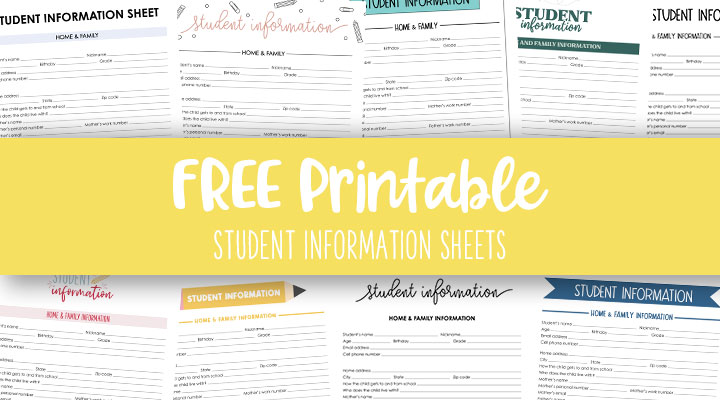 If you are an educator you know how important it is to know all about your students in order to connect with them in a meaningful way. What are their likes and dislikes? What is their favorite color? What is their favorite subject? What did they do over their summer break? All of these things give you an idea of their personality and will help you better know how to teach and relate to them. (We also have a post with 50 Free Printable "All About Me" Worksheets that will help you connect with your students on a personal level. Both these Student Information Sheets and the About Me sheets should work great for elementary, middle, and high school students!)
Just as important as knowing their likes and dislikes is knowing how to contact their parents in case of an emergency or if they have any type of allergy, etc. This parent contact information is more formal information that is necessary to collect at the beginning of the school year in the event that you need to use it. These 10 Free Printable Student Information Sheets found below are the type of handout you'd give to parents at Back to School Night (the first day of school works great too!) to have them return with their student to class the following day. Fortunately, we have ten options to choose from that will get you the information you need!
All you need to do is look through the options below and decide which design works best for your classroom, click the image, download the PDF file to your computer, and print! It's so easy to ensure you've got all the information you need at the drop of a hat!
If you're an educator, you might also like our 2022-2023 Academic Calendars and all of our free printable calendars. Lastly, check out all of our education-related printables!
Please note that each student information sheet PDF contains two pages. The JPGs below have a yellow background purely as a background. All student information sheets are white when printed.