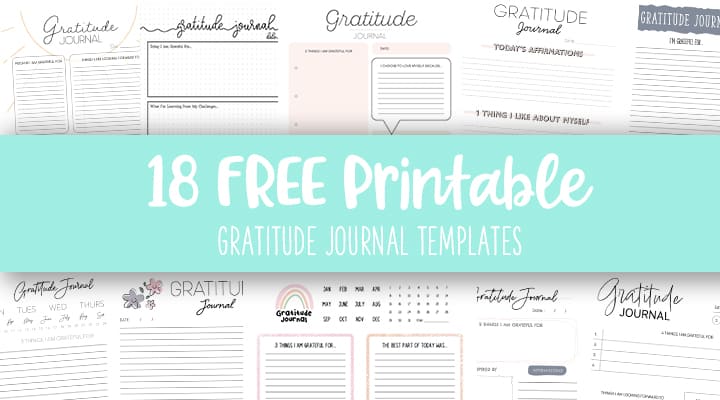 Having an attitude of gratitude allows us to see and appreciate all of the good things that life offers us each day. Sometimes in the hustle and bustle of our busy lives, it is easy to overlook all of the blessings we have, the kindness of others, and the gentle reminders that regardless of all that is going on around us life is pretty great! Keeping a record of all of life's joys, even the simple ones, not only encourages us to seek them out, but it is also a great idea to routinely look through your gratitude journal to inspire you and remind you of all the love and good in your life.
Below, we have 18 Free Printable Gratitude Journal Templates and Pages for you to print to make your own personal gratitude journal! You can print multiple of the same design and layout, or you can print varying designs to make every day different from the one before. Each page also has different prompts to help you look for the positive in various aspects of your life, so choose the one(s) that will help you get the most out of your gratitude journaling!
To get your Free Printable Gratitude Templates & Pages, simply scroll through the options below, click on the images of the ones you'd like to use to get the PDF, then click print! You can bind them (or have them bound at an office supply store) or use a three-hole punch to turn a simple binder into a beautiful gratitude journal.
If you love gratitude journaling, you'll also love our Free Printable Gratitude Journal Planner Pages which are part of our Free Printable Planners. You can also check out some of our standard Free Printable Journal Templates & Pages to complete your Gratitude Journal!