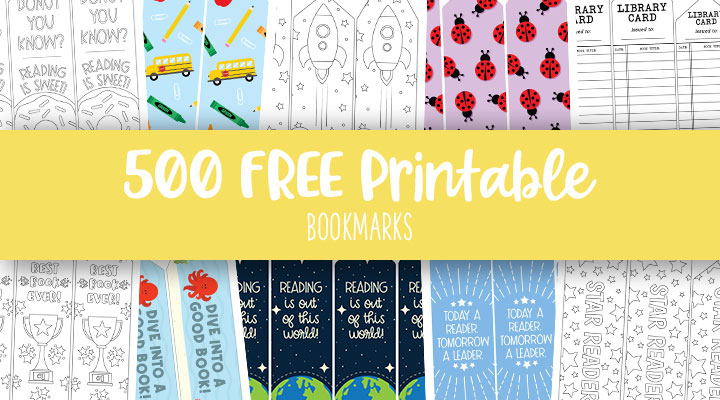 If given the opportunity to sit in a comfy chair in a quiet room for even just an hour or two we're pretty sure most people would choose to grab a good book to keep them company. If you are an avid reader, whether it be for leisure or perhaps you are a student required to read many books over the course of the school year, you will most likely have a need for a good bookmark to help you remember where you left off.
Below, we have 128 Free Printable Bookmarks for you to choose from! All 128 unique designs come in four different shapes and are 2.5″ wide x ~7.5″ tall. Some of them are coloring book-style which are perfect for young readers to customize with crayons and colors to their heart's content. Others are full-color and are ready to print, cut out, and use. You could even add your own tassel if you're feeling fancy! 🙂 And if you like to keep track of all the books you've read and loved our Free Printable Book Trackers (there are also bookmark designs below that will act as a reading log and/or series tracker depending on which one you choose!) will help keep you even more organized!
If you have a child who loves to read or you are an educator who needs students to track their reading minutes or the number of pages read, make sure you check out our Free Printable Reading Logs after printing out your bookmarks.
To get your free printable bookmarks all you need to do is scroll through the designs below, choose the one(s) that work best for you, download the PDF file(s) to your computer, and print! We recommend printing on white cardstock (aff link) to give your bookmarks their best chance of lasting a long time. Then just grab a pair of scissors or a paper cutter, some markers if necessary, a good book to read, and you're all ready to go!
Printable Bookmarks – Colored
Printable Bookmarks – Black & White
Coloring Bookmarks
Bookmark Templates