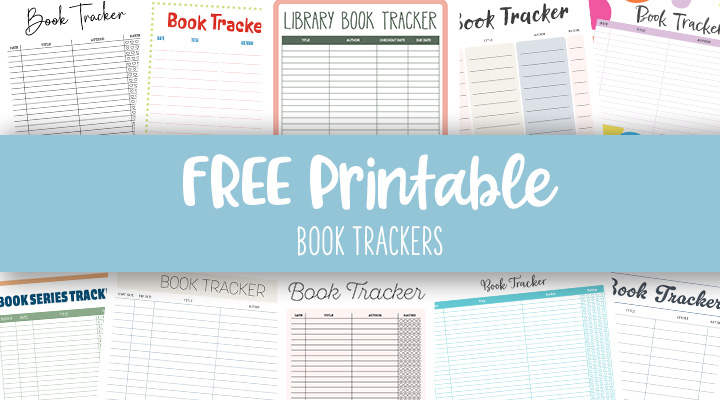 If you enjoy reading as much as we do then we know you'll love these book tracker printables! While we already have Free Printable Reading Logs for children and students to count their reading minutes we realize there are other ways and reasons why you would want to keep track of the books you've read and have 3 different types of book trackers to help you do so:
Track the books you've read + give them a rating:
With all the reading you do it's nice to keep track of the books you've already read and love the most so you know which ones you want to keep on your shelves to either read again or refer back to in the future and which ones were so amazing you would recommend to a friend. There are several designs for this type of book tracker below and they will all allow you to both keep tabs on the books you've read previously and rate them so you can remember which were the best of the best!
Book Series Tracker
There are so many great book series out there for both youth and adults. Some of them require you to read the series in sequential order while others you can read a la carte in whatever order you're able to acquire them as one book doesn't necessarily lead into the next book's story or timeline. In either case, you may need one of these printable Book Series Trackers to check off the books you've read (we know from experience that after reading so many books in a series it can be hard to remember which ones you've actually read and which ones you haven't!). With this type of book tracker, you'll be able to write in the book number, the date you read it, the title of the book, and even what you rated it! Take it with you each time you go to the library so you can be sure to only check out the books you've not read yet. Speaking of libraries….
Library Book Due Date Tracker
If you're an avid reader you may be checking out large quantities of books from the library with each trip! And if you've ever forgotten which books are due on which date thus accruing late fees then these Library Book Due Date Trackers are for you! You'll be able to write in the title, author, the date you checked it out, and the date it is due. Then it's just a matter of doing a quick scan to make sure you've finished (and returned!) each one on time.
To download any and all of the Free Book Trackers outlined above all you need to do is scroll through the design options below, click on the image of the one(s) you'd like to use, download the PDF file(s) to your computer, and print! It takes much less than a minute to do leaving you more time to read!
Standard Book Trackers
Book Series Trackers
Library Book Trackers