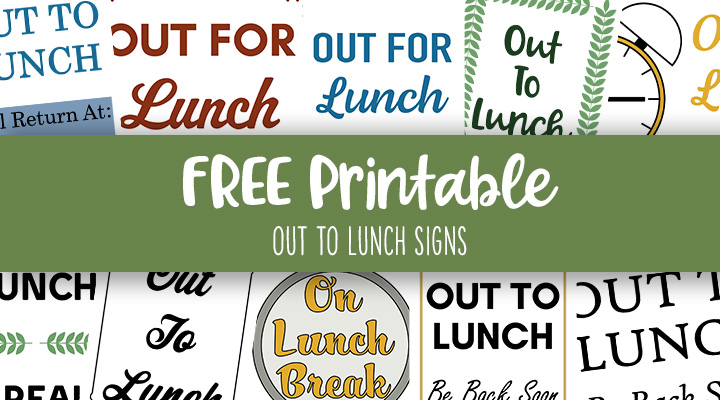 We all work hard day in and day out. Regardless of what our occupation may be we all take a well-deserved lunch break every day. Whether you are a small business owner of a brick-and-mortar shop or a front desk employee of a serviced-based company there comes a point in every day when we (and maybe even the entire office!) take a short break to feed ourselves and re-energize for the rest of the day ahead.
To let people know that you are taking this break and that business will resume shortly we've created these Free Printable Out To Lunch Signs for you to use! You can hang them on your storefront window, or perhaps your office door, or even on your desk or cubicle depending on where you work to let people know that you'll be back to work soon and can take care of them at that point.
To get your Free Printable Out To Lunch Signs all you need to do is click on the sign(s) you'd like to use, download the PDF file(s) to your computer, and print! If you'd like to make them last awhile you could even laminate them, punch holes in the top two corners for a ribbon to hang them with, or get your favorite non-residual tape to adhere to your surface.
And since you're working so hard all day every day we'd like to offer you these other free printables to help keep your work efforts organized so you can be as efficient and productive as possible!:
Free Printable Note Pages & Templates
Free Printable Weekly To Do Lists
Free Printable Monthly To Do Lists
Free Printable Hourly Planners
Free Printable Weekly Planners
Free Printable Two Week Planners