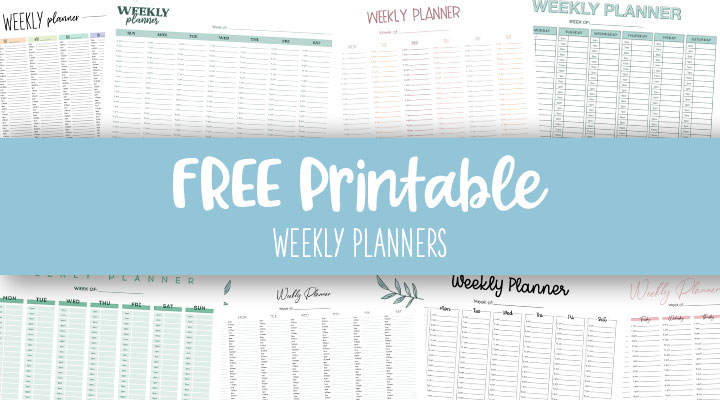 The start of a new week is an excellent opportunity to gather our good intentions and put them to work. We can start fresh with a clean slate and a resolve to accomplish all the things we have on our to-do lists in our busy lives. Oftentimes families, couples, and individuals will gather on a weekly basis to discuss the upcoming events and schedules to ensure everyone is on the same page. Using a good printable calendar is undoubtedly helpful, but it can be difficult to fit in all the necessary details that are required to have the entire week run smoothly and for everyone to see all of those details at a glance and in one place. Not to mention at the level of granularity that may be needed!
To keep everyone organized this week (and for all the weeks to come!) we have created 25 Free Printable Weekly Planner Pages posted below! With 25 designs and multiple layouts (hour and half-hour increments are available!) to choose from we're confident you'll find something that will help you get your week started on the right foot!
And it's not hard to get your hands on one of these printable weekly planner calendars either: simply scroll through all the options below, click on the image of the one you'd like to use, download the template's PDF file to your computer, and print! Now you just need to jot everything in to have a well-planned, wonderful week!
If you thought these printable weekly planners were helpful, you should check out some of our other organizational printables…all of them are available for free!
Free Printable Hourly Planners
Free Printable Weekly To Do Lists
Free Printable Two Week Planners