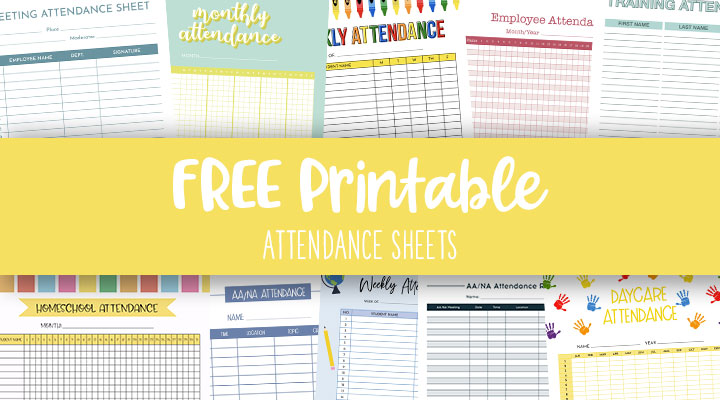 Taking attendance is often one of the first things we do at the beginning of the school day, at daycare, on field trips, at work meetings and trainings, at church, and in all other sorts of gatherings and events. Attendance sheets are essential for so many reasons – from informing parents via the school office that their child was recorded as not being in attendance that day (so that the parents are aware of their absence), to ensuring everyone who needed a training session to operate safely in their role was in attendance to receive that pertinent information, and everywhere in between. Since they are useful to so many people and have so many applications we thought we'd design 50 Free Printable Attendance Sheets to fit multiple needs!
There are many different layout options and applications below, so after scrolling through the choices offered and finding the attendance sheet template that will work just right for what you need, simply click on the image, download the PDF file to your computer, and print! Then it's just a matter of using your blank attendance sheet to check off who is and isn't there!
School Attendance Sheets
Use these blank school attendance sheets for any age level of students from preschool to high school. These templates include both monthly and weekly attendance sheets in a wide variety of styles and colors.
Homeschool Attendance Sheets
Homeschooling your children and possibly others? Use these free printable homeschool attendance sheets to take attendance throughout your school year! Just click on the image below, grab the attendance sheet PDF of your choice, and print!
Homeschool Attendance Sheets – September Start!
Does your homeschool start in September? If so, the two attendance sheets below will work great for your school year as both are September start homeschool attendance sheets!
AA & NA Meeting Attendance Sheets
Whether you're attending yourself, running the meeting, or helping a loved one attend, use these free printable AA and NA attendance sheets to help out those on the path to overcoming addiction.
Employee Attendance Sheets
Track the daily attendance of your employees or team members for any given month or for an entire year with these free printable employee attendance sheets.
Meeting Attendance Sheets
Track the attendance of participants at any given meeting using these free printable meeting attendance sheets.
Training Attendance Sheets
Track the attendance of participants at any given training using these free printable training attendance sheets.
Daycare Attendance Sheets
Use these free printable daycare attendance sheets to accurately track the attendance of the kids in your care over the course of a full year.
Sunday School / Church Attendance Sheets
As you do your best within your church responsibilities, track the weekly attendance of your class members or worshippers each quarter by using these free printable Sunday School attendance sheets.