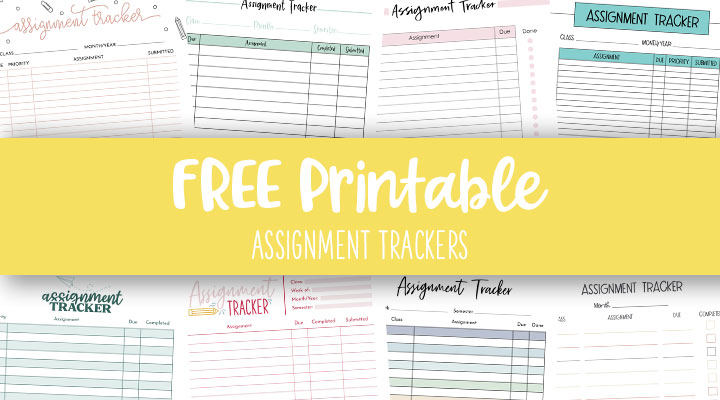 Having once been students ourselves, we know that all students start off the school year with good intentions of keeping track of assignments and due dates and generally staying ahead of all that is required of them. Inevitably, the workload starts to pile up and there are many small assignments in addition to the bigger tests and projects, and it can be quite difficult to keep tabs on everything.
With quite a few assignments up in the air at any given time multiplied by several subjects, we wanted to create something to help every student keep track of it all. The 12 Free Printable Assignment Trackers you'll see below are intended to accomplish just that!
In these assignment trackers, you'll find spaces to write in your specific assignment, the due date, and a space to indicate if it was completed or submitted, amongst other details.
To find the assignment tracker that is just right for you or your student(s) all you need to do is look through the options below, click on the image of the one that you think will work just right, download the PDF file to your computer, and print!
We can't do your homework for you, but we can help you keep it organized! If you want more ways to organize your time better this school year, be sure to check out these other free printables:
Free Printable 2022 – 2023 Academic Calendars
Free Printable Hourly Planners
Free Printable Weekly To Do Lists
Free Printable Two Week Planners
Free Printable Monthly To Do Lists