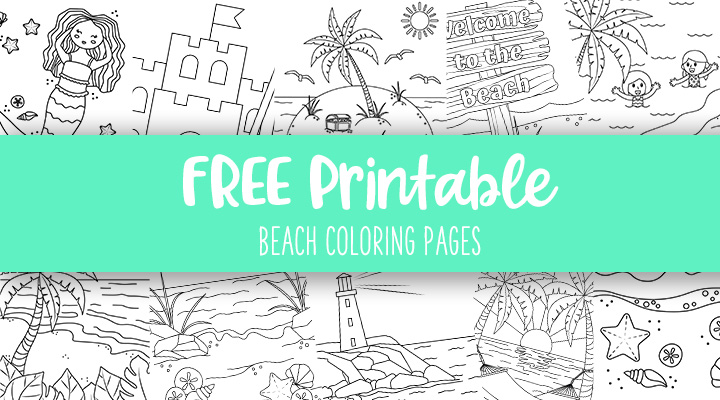 Oh, how we love a beach day! Sitting in the sun, listening to the waves crash, collecting sea shells, building sand castles, and of course hurriedly eating an ice cream cone (ice cream coloring pages) before it melts down our arm…a beach day is certainly one of our most favorite summer traditions and is one we add to our Summer Bucket List every year.
If you've put at least one beach day on your Summer Calendar this year then we suggest printing off a bunch of these Free Printable Beach Coloring Pages to not only get your kids excited for their beach trip but to also buy you a little bit of time while you work on packing and other preparations!
All you need to do to print your Beach Coloring Pages (we have pages with sunsets, beach balls, beach houses, the ocean, lighthouses, and so much more!) is click on the image(s) of the coloring pages you'd like to use, download the PDF file(s) to your computer, and click "print"! If you're traveling to the beach you could even print all the coloring pages available, put them in a binder or folder, grab some crayons or colored pencils and within minutes you've got a fun way to entertain your children for a long time in the car or on the plane!
If you're looking for even more free printable summer-themed coloring pages check out some of our other posts:
Free Printable Pineapple Coloring Pages
Free Printable Watermelon Coloring Pages
Free Printable 4th of July Coloring Pages
Free Printable Firework Coloring Pages
Free Printable American Flag Coloring Pages & Templates
Free Printable Butterfly Coloring Pages
Free Printable Flower Coloring Pages
Happy summer!