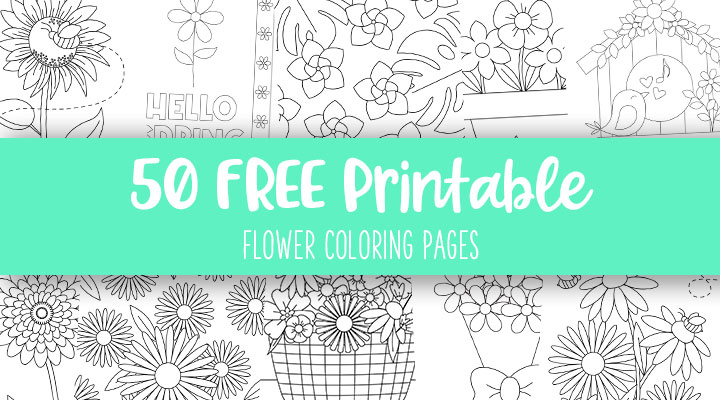 Flowers are such a beautiful part of nature and are sure to make anyone smile and daydream of walking through a charming backyard garden or running through a vast bloom-filled field on a sunny summer day. Regardless of the fact that there are hundreds of thousands of flowering plant varieties across the world and thus an endless array of colors, shapes, and sizes, all flowers seem to work together harmoniously to make gorgeous arrangements as unique as each individual flower. It's no wonder they're used as often as they are in weddings, to offer condolences, or as a special gift to show someone you love them. It also comes as no surprise that people everywhere plant flowers in their gardens, around their houses, and even inside their homes. Flowers are used to invoke or highlight feelings of love, joy, and peace.
If you have a love of flowers then you are really going to enjoy these Free Printable Flower Coloring Pages! Just as each flower and arrangement is unique in real life so too will be these flower coloring pages (pages include: baskets, bees, birds, bouquets, butterflies, dahlias, daisies, gardens, flower pots, hibiscus flowers, poppies, roses, sunflowers, tropical flowers, tulips, vases, wildflowers, and more!) once you've finished with them! You can simply change the colors of the flowers in different combinations or add in more flowers or design elements of your own to create an entirely new look and feel! And perhaps the best part of these flower coloring pages is that they can easily be given to friends and family and even displayed somewhere in your home or by your desk at work and they will brighten everyone's day just by walking past them – much like the effect real flowers have!
To get your Free Printable Flower Coloring Pages simply click on the image(s) of the ones you love below, download the PDF file(s) to your computer, and print!
Grab your favorite coloring instruments (crayons, colored pencils, markers, chalk, etc) and make a beautiful garden of your own…on paper!