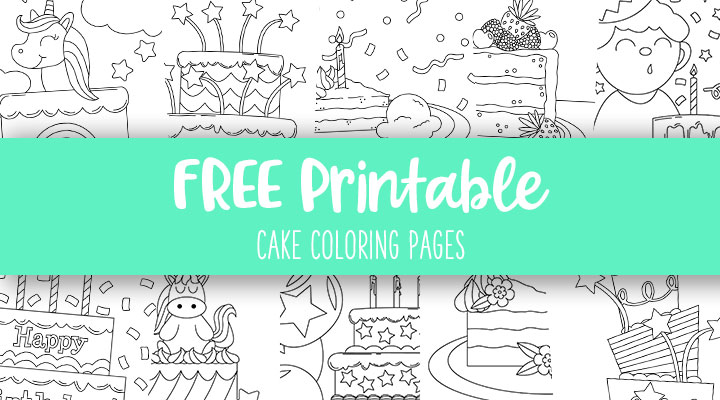 If you're anything like us, you're always looking for an excuse to make a cake! It doesn't matter if it's a birthday (free printable birthday cards here), a holiday, or just a random Wednesday night, we feel like every day is worth celebrating! And it could be a whole three-layer cake decorated to the nines or a much smaller but just as delightful little cupcake (see our free printable cupcake coloring pages here). Though, when it comes to cake, we believe the consensus is: the bigger the cake and the more there is, the merrier we all will be!
If you've ever given a child a cake along with a plethora of icings and decorations to use you know there is no end to their creativity nor have you ever seen such sheer delight as they design and create a masterpiece of their very own! To form a similar experience but one that is much less messy, requires very little prep or clean up, and can be used any time and any place, we bring you our Free Printable Cake Coloring Pages! Your little cake decorators can still make playful color combinations, be innovative in their patterns, and can even add extras to make their cake uniquely theirs.
To get your child started on their own Cake Coloring Pages (the coloring pages below include birthday cakes, wedding cakes, unicorn cakes, blank cakes, and more!), simply grab your drawing utensils of choice (and maybe even some glitter glue if you're feeling brave!), and do the following:
Click on the image of the cake coloring page(s) you'd like to print,
Download the PDF file(s) to your computer, and
Print!
Now be prepared to be wowed by all the amazing ways a simple cake can be made extraordinary through your child's imagination and originality!